The transition from childhood to adulthood brings many challenges.  
There's an extra layer for people with multiple medical needs, as they must also navigate a move from child to adult healthcare services.  
Central Adelaide Local Health Network (CALHN) respiratory physician Associate Professor Yeo is creating a tailored program to ensure young adults requiring complex respiratory care can move successfully from the Women's and Children's Health Network to the Royal Adelaide Hospital (RAH) in South Australia. 
"We want young people to shift to care at the RAH feeling confident and informed, and in best possible health," said A/Prof Yeo.  

"It should be a process of transition, not just transfer." 
A/Prof Yeo is bringing together a number of medical, nursing and allied health teams along with patient advocates to create the RAH's Complex Respiratory Care Transition Program.
"Patients requiring complex respiratory care cannot be managed by GPs alone," said A/Prof Yeo.  

"Coordinated multidisciplinary care is really important to ensure patients stay well, remain engaged in their own healthcare and trust the team around them." 
Zero adult hospital admissions
Alice is one of A/Prof Yeo's patients. She is an avid blogger and social media user, and enjoys Netflix, audiobooks and spending time with friends and family.  
Alice will soon celebrate her 30th birthday, but she was 21 when her care shifted to the RAH.  
Although she requires 24-hour ventilation, Alice has required zero hospital admissions since transitioning to adult care.  
"Alice is doing really well, thanks to her clinical team at the RAH but also the fantastic help she has from family and carers at home," said A/Prof Yeo.   
As an outpatient, Alice attends about five RAH medical appointments per year, and is supported remotely to secure medical supplies and scripts.  
"Dr Yeo helped me with the transition to the RAH by telling me how this hospital works differently to the Women's and Children's Hospital," said Alice.
In the photo, Alice is pictured with her parents, A/Prof Yeo and other members of the medical care team.
Parents and hospital staff work together 
Geshan is a young man with severe progressive physical and intellectual disability. Cared for by his parents at home, he is dependent on ventilation at night and has required multiple hospital admissions for pneumonia.  
"We see Geshan for around nine appointments per year in the respiratory clinic," said A/Prof Yeo.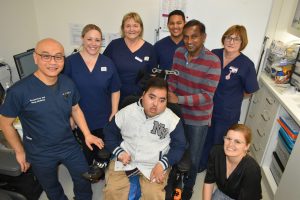 Depending on his requirements, A/Profs Yeo and Thomas share Geshan's care, with coordination provided by their broader multi-disciplinary teams.
"Geshan made the local news when he was able to leave ICU for a few hours to attend his high school graduation in 2021," said A/Prof Yeo. 

"He has certainly endeared himself to us all." 
Geshan's case is an example collaboration and coordination between teams is required for the care of complex respiratory patients.
His case highlights the importance of a robust transition plan with the Women's and Children's Hospital Network, and better engagement of GPs, community and other primary healthcare groups.
"While Geshan's biggest heroes are his parents, we are committed to supporting his needs – he deserves high quality healthcare just like anybody else," said A/Prof Yeo.   
A/Prof Yeo was the recipient of a 2023 People First Staff Commendation Award in recognition of his leadership across CALHN's respiratory failure service and his development of community-based models of care and education for his colleagues. He dedicated the commendation to his team and patients.