Turning 18 is a milestone birthday. 
Jed marked the occasion with a visit to the renal Young Adult Clinic.
Operated by Central Adelaide Local Health Network (CALHN), the service delivers care and builds community for patients aged 17-27 with kidney conditions.  
"My first appointment at the Young Adult Clinic was literally on my 18th birthday," said Jed.  
Previously Jed's parents had managed his health through care at the Women and Children's Hospital. 
"Upon becoming an adult, I shifted to the Young Adult Clinic for my ongoing healthcare, both before and after my kidney transplant in 2019," Jed said.   
The clinic offered Jed a gentle transition into looking after his own health as a grown-up.  
"It's a really chilled and relaxed environment, very warm and welcoming," said Jed.  

"I hang out with the other patients, and one-by-one we have our appointments with the doctor and nurses to get our test results back, have blood pressure checked and medications reviewed."  
As well as medical care, the clinic provides social supports for consumers, employing a youth worker to ensure everyone feels welcome and included.  
"We chat and do activities while we're in the clinic, and sometimes head off to do other stuff together too, like play mini golf or attend Fringe shows," said Jed.  

"It makes all the difference knowing you're not the only one."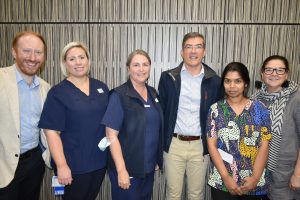 Members of the renal Young Adult Clinic team:
Dan, Hilary, Danielle, Robert, Sadia and Ky-Lee. 
Celebrating a decade in operation
In early 2023 the renal Young Adult Clinic celebrated its 10th year in operation.
The number of failed kidney transplants in young adults has dropped dramatically since it was established.  
"Adults aged 17-27 can have difficulty engaging with medical professionals and as a result may miss appointments, medications or blood tests," said Danielle, Renal and Pancreas Transplant Nurse Unit Manager in the Renal Unit at the Royal Adelaide Hospital. 

"The clinic was set up to provide a guided transition from paediatric to adult health care services and to increase support for people in this at-risk group." 
Danielle works with nurse Hilary, kidney transplant specialist Professor Robert Carroll and others to provide care for about 40 young adults at the clinic, including Jed.
Patients visit the service every two months at a central, non-hospital location.