Surgeons at the Royal Adelaide Hospital are performing world-first hip replacement revision techniques, which are changing the lives of patients with failed hip replacements.
The technique, developed by orthopaedic and trauma surgeon Professor Bogdan Solomon, helps protect vital muscles and nerves and is showing promising long-term results with patients walking without pain or a persistent limp.
Cheryl's story
After having both hips replaced in 2006 and 2008, this year Cheryl Hunt suddenly developed osteolysis; a common long-term complication with total hip replacement.
"I was loving life, I'm 60 and everything was great," she explains.
"Overnight I got a pain in my leg…Ten days later I couldn't walk without holding onto something."
Cheryl soon after had revision surgery on both hips, eight weeks apart, including a marathon 9-hour surgery to repair her second hip.
World-class research and care
Through research at the RAH and with the University of Adelaide, Professor Solomon developed the techniques that have been in use since 2012.
"The Extended Posterior Approach (EPA) is used to revise or redo previous hip replacements where patients have lost significant pelvic bone due to the implant becoming worn out, infected or unstable leading to severe discomfort and movement difficulties," Professor Solomon said.
"The EPA technique involves a slightly longer incision which allows surgeons to identify and protect a vital nerve bundle.
"This guarantees that important muscles, which are known to be damaged during alternative techniques, remain protected. It also allows customised modification and fitting of the replacement implants to ensure there is optimum contact with the remaining bone."
By the numbers
In the first 70 patients with severe pelvic defects treated using the EPA technique, all patients could bear weight on their hip and begin walking within a day of surgery.
88 per cent were able to return to full muscle power within three months.
Up to 80 per cent of patients who had surgery using previous techniques had a persistent limp due to muscle damage, tension or rubbing, or nerve damage.
Long-term monitoring
During the EPA surgery, the team attach markers to the bone surrounding the implant so special X-rays can be performed during subsequent hospital visits to monitor precisely how well-fixed the customised implant remains over time.
Orthopaedic senior medical scientist, Dr Stuart Callary, said the RAH is one of the only centres in the world to use radiostereometric analysis (RSA) to monitor implant stability.
"These complex cases mean it is difficult to achieve stability of the implant due to limited bone for the attachment, which in the past has caused many implants to become loose and require additional surgery," Dr Callary said.
"By using accurate RSA measurements, we have been able to identify an improvement in the success rates of revision surgery with loosening rates decreasing from 17 per cent to zero per cent.
"These results are very exciting and prove patients undergoing complex hip surgery at the RAH are currently having some of the best outcomes in the world."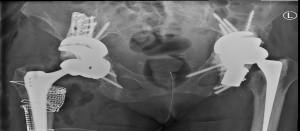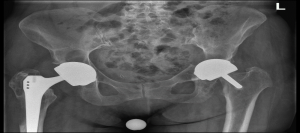 Cheryl's hips before and after revision surgery.
Cheryl's next steps
While she jokes she'll never skydive, the nurse educator from Darwin is looking forward to walking freely and comfortably.
She also hopes she'll be able to one-day travel to Italy.
"If it wasn't for Bogdan and his team doing the research that they do, I wouldn't be sitting here to say thank you," she said.
"There is no other place that do this in the world and no other place that knows the long term impacts. I'm really blessed."
Pictured are Professor Bogdan Solomon and Dr Stuart Callary with patient Cheryl Hunt after her second hip revision surgery.