Glenn received a life-saving transplant of his own laboratory-grown skin in 2018 after being admitted to the RAH with burns to 95 per cent of his body as a result of a house fire.
Researchers at the Royal Adelaide Hospital (RAH) Burns Unit have now published a long-term follow-up of this world first, showing how it can be used to treat patients with large burns.
Lifesaving innovation
Major burns have traditionally been treated with various types of skin grafting. This involves taking healthy sections of a patient's skin and transplanting them over damaged areas.
In Glenn's case there wasn't enough healthy skin available, so the research team brought forward a first-in-human trial combining two cutting-edge technologies – both developed at the RAH.
Surgeons first applied an artificial foam-like material (NovoSorb® Biodegradable Temporizing Matrix (BTM), which was developed to protect major wounds and burns to act as a foundation for skin growth. It works by temporarily closing the wound and preventing moisture loss, supporting the integration of new blood vessels and tissue which are vital for skin growth.
Surgeons at the RAH, led by Prof John Greenwood, then applied a revolutionary composite cultured skin (CCS). This consisted of a polyurethane foam-like structure, coated in plasma gel embedded with lab-grown cells of Glenn's own skin.
Dr Bronwyn Dearman, Senior Medical Scientist at the Skin Engineering Laboratory at the RAH played a major role in developing the technology used to save Glenn's life.
"It was invaluable coming from a different perspective, from a scientist view, not a clinician view, to see how translational research can impact and change someone's life. It was really amazing to be able to do that."
Glenn's success leads to more
Three years after first arriving in hospital, Glenn is living independently and driving.
"The technology is amazing. It's allowed me to leave hospital and get back to a normal life," he said.
The latest publication by RAH researchers provides evidence to other burns surgeons and researchers of the progress of Glenn's recovery, which could help make use of this new technology more widespread.
Producing and refining the skin substitute is continuing with the aim to ultimately eliminate the need for traditional skin grafting altogether. This is particularly needed for large burns, when there is insufficient healthy skin to transplant, but is also the preference of many patients.
"That's the Holy Grail, to replace the skin graft, especially for large burns with limited to no donor sites," said Dr Dearman.
"A lot of patients say the donor sites are just as painful, if not more painful, than the burn. So, to reduce that is a goal we should be aiming for."
Read the research
Click here to read the published paper.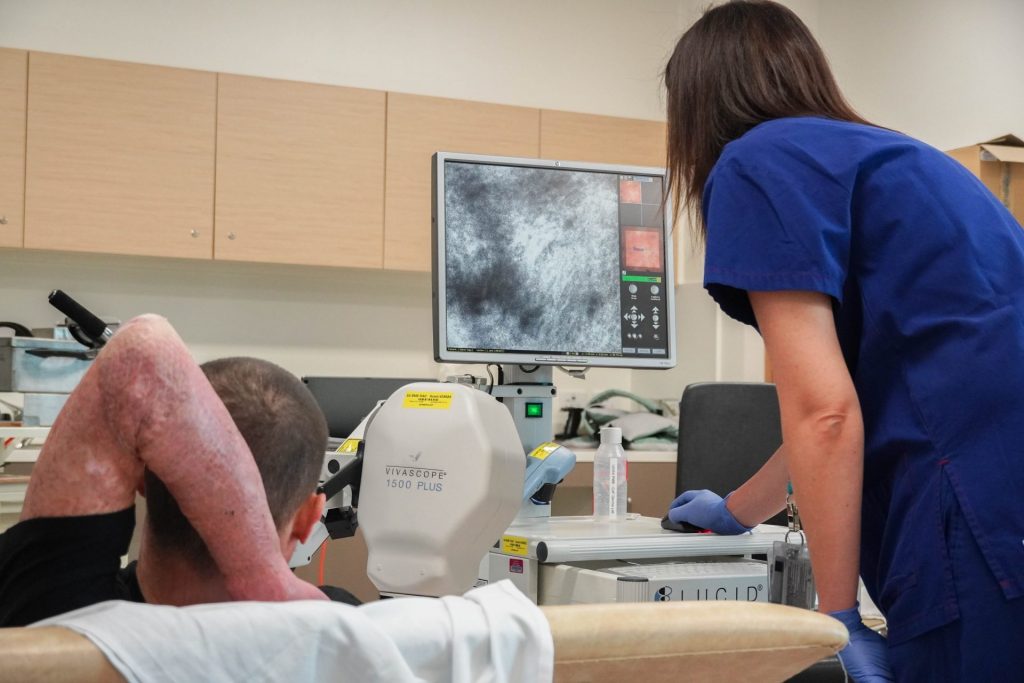 Pictured: Dr Dearman reviewing Glenn's skin using the VivaScope System – a non-invasive microscope to examine the different layers of skin.