Two-time lung transplant recipient, Flynn O'Malley, is well versed at overcoming significant health challenges.
Flynn, 23, says although physical exertion can be difficult and a short walk often leaves him struggling to catch his breath, the alternative was far worse.
"Lung transplants require a long recovery, and I wouldn't say it's a normal life, but it allows you to keep living so it's pretty good, all things considered," he says.
Born with Idiopathic Pulmonary Hypertension, a life-threatening lung disorder characterised by high blood pressure in the pulmonary arteries, Flynn required new lungs to improve his survival and quality of life.
Flynn's first transplant in 2015 was a success, transforming his health for the next five years.
However, an unfortunate workplace fire while employed on a cattle station in the Northern Territory in 2020 damaged his lungs again, forcing him back on the waiting list for a further transplant. He was part way through his three-week recovery after his second transplant as coronavirus began circulating the globe.
COVID-19 high risk for lung transplant patients
Royal Adelaide Hospital (RAH) physician and SA Lung Transplant COVID Response Lead, Professor Chien-Li Holmes-Liew, says COVID-19 poses a major risk for lung transplant recipients, who are highly vulnerable because of severe immunosuppression and multiple co-morbidities.
She says international studies conducted during the pandemic showed an up to 45 per cent fatality rate for lung transplant patients who contracted COVID-19, far higher than the general healthy population, leaving Flynn and other recipients extremely at risk.
About CALHN's SA Lung Transplant Unit
CALHN's SA Lung Transplant Unit is a multidisciplinary unit which delivers ongoing specialised care for SA's more than 200 planned and post-lung transplant recipients.
As one of the world's first lung transplant satellite centres, the RAH-based unit provides centralised expertise and resources for all SA physicians and health care professionals.
To counter the increased mortality risk from the pandemic, the unit developed a proactive, patient-centred response, including the release of regular targeted patient information.
In addition to regular information about preventative and protective measures, a specialised team was created within the existing team, led by physicians and senior outpatient and inpatient nurses.
When the SA borders opened in November 2021 and community cases escalated sharply, the team, together with CALHN's Infectious Diseases and COVID Response Care teams, developed a clinically focused protocol for this vulnerable group.
Prof Holmes-Liew has led the protocol together with Professor Mark Holmes and nurses' Mary Young and Laura Sadler.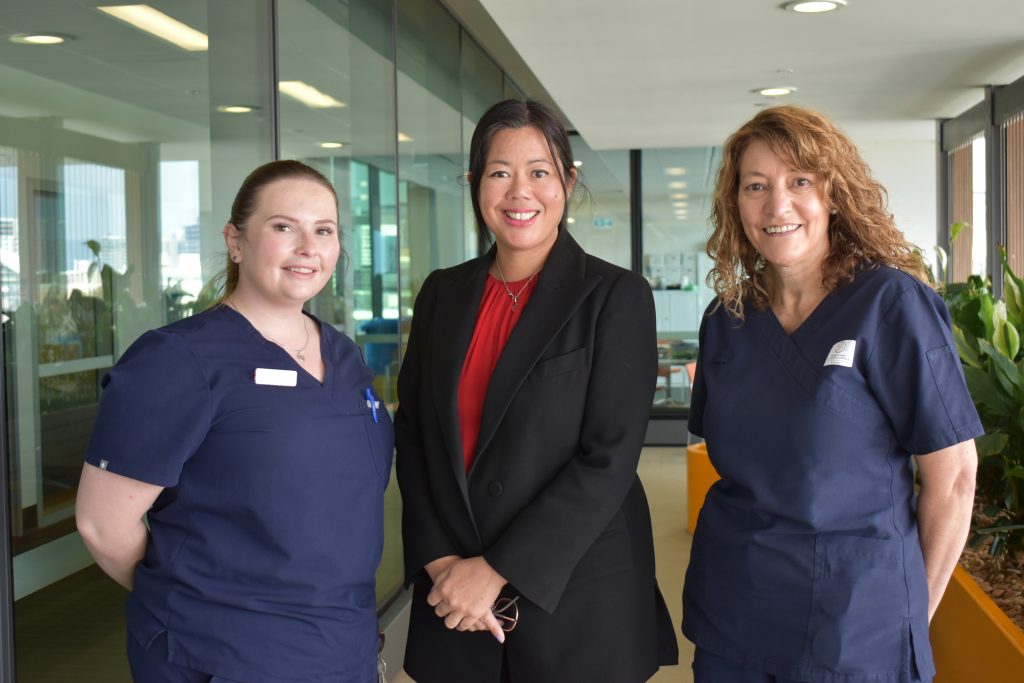 It aimed to deliver continuity of clinical and psychological support for patients and carers and served as an "one-stop" streamlined system.
Unit's responsive COVID-19 support
Informed by international and national evidence, the Lung Transplant COVID-19 response featured:
education resources for patients and community health-care providers
a 24/7 service staffed by a lung transplant COVID-19 nurses, physicians and registrars, which became a designated contact point for queries and notification of positive results
a strict admission protocol for COVID-19 positive lung transplant patient due to the risk of rapid life-threatening deterioration
use of targeted anti-viral treatment
COVID-19 positive patients receiving a care pack, to take home in conjunction with regular contact from the Lung Transplant COVID team for 7 days post discharge to identify any ongoing issues.
Flynn praised the unit's care after he contracted COVID-19 this March.
"Their response was very professional and the way it was all managed was quite amazing, I'm so grateful for the care and support I received," he says.
Prof Holmes-Liew says the positive health outcomes of the unit's patients highlighted the success of the protocol.
Unit's world-class "zero-mortality" success
"The most fundamental results are the zero-mortality rate and not one day spent in the intensive care unit for any of our Lung Transplant patients.
"The response has also reduced morbidity in this population and increased education of clinical staff and the multidisciplinary interactions.
Prof Holmes-Liew says the expertise of the team and regular consultation with patients and families underpinned the protocol's achievements.
"We engaged patients in the development of the protocol, listening to their wishes and needs, anticipating their concerns and seeking regular feedback."
"It was recognised early on by the unit that a world-class standard protocol regarding a dynamic situation required continuous improvement and updating, with rapid changes often necessary to improve and fine-tune the strategy."
Image 1: Lung transplant recipient Flynn O'Malley
Image 2: Laura Sadler, Prof. Holmes-Liew and Mary Young