Peter Kelly doesn't remember anything from Tuesday 11 August 2020.
Just after lunch, the 51 year old suffered a cardiac arrest while at work. His colleagues started CPR immediately and continued until paramedics arrived. Paramedics were able to get a rhythm back, and Peter was transferred to the Royal Adelaide Hospital.
Peter's wife Mandy says that if not for the quick actions of his colleagues, Peter may have had a very different outcome. The family are reminding the community of the importance of first aid courses and CPR training.
"We're incredibly lucky. Someone heard Peter collapse, and immediately started CPR. They used a defibrillator which they had in the building. It was so important in keeping him going until the paramedics arrived," she said.
"Who knows what the outcome would have been if Peter had been at home, or his colleagues hadn't recently done a first aid refresher."
"Peter was very lucky he had his arrest at work, with people around, and that those people knew how to perform effective CPR," said RAH ICU consultant, and member of Peter's treating team, Dr Michael Farquharson.
ECMO machine helps Peter's recovery
Tests showed that Peter needed bypass surgery. Following surgery, Peter was transferred to the intensive care unit (ICU), where he stayed for three weeks.
Due to the trauma his heart had been through, the decision was made for Peter to go on an ECMO machine. ECMO machines can be used to perform the function of the heart and the lungs after a significant trauma.
"The ECMO machine gives the heart time to rest and slowly recover so that the heart can start to do more of the work itself," Dr Farquharson explained.
"It can be a long process, but it gives the body a chance while the heart is recovering."
The Royal Adelaide Hospital treats around eight to 12 patients every year using ECMO.
The Kelly family says thank you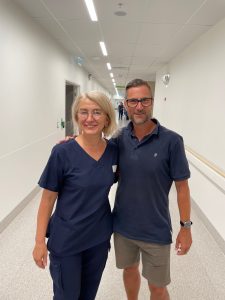 Peter's main memory from his three weeks in ICU was the voice of one of his nurses, Nihada (pictured left).
"In my mind, when I thought of her voice, she was on the ward, but it wasn't until I came back that I realised she was one of the ICU nurses."
Peter's wife Mandy is thankful for the time the staff in the ICU took to make sure her and the couple's two daughters, Mia and Sophie, were aware of what was going on.
"They looked after us. Michael took the time to sit down with the girls and explain what was happening, how Peter was and what they were doing. For me, that was an incredible weight off my shoulders for him to explain everything to them," she said.
Peter and his family have spent the last few weeks visiting the people and places that saved his life, passing on a small token of their appreciation.
"It feels like coming in to say thanks and leave a few pastries isn't enough. I know the staff appreciate it, but all I can do is shake their hands and say thanks for what you did."
"Everyone has been amazing – the best, most competent people – and I wouldn't be here without them. They helped keep me alive," he said.
The staff on the unit were thrilled to see Peter and his family again.
"Nothing beats seeing Peter smiling and well, and standing up. That's the greatest reward for a clinician,' said nurse Nihada.
"It really is rewarding when a patient comes in after discharge. Peter's recovery is the result of the team work of a whole range of people," Dr Farquharson said.
"It's great to see Peter doing well."