Every year, around 700 people of no fixed address are cared for at Central Adelaide Local Health Network (CALHN) hospitals and facilities.   
But CALHN goes further than simply meeting the immediate health needs of people experiencing homelessness.  
CALHN's integrated care and social work teams connect people sleeping rough with important services and community organisations that support their ongoing wellbeing.  
"I have had a good experience here," said one CALHN consumer experiencing homelessness.  

"The physios have been trying to get me stronger so that I can get out of here.

"My social worker goes out of her way more than anyone here to try and help me.

"I want to get out of here and into my own accommodation.

"I want to make the right choices, but I need some support."  
Connecting people with out-of-hospital services
Not everyone who is experiencing health challenges will need to be admitted into hospital, but they still require care.  
Specialised nurse consultants known as CALHN Integrated Care Coordinators work with clinicians to provide consumers experiencing homelessness with different treatment options.  
The coordinators can also connect consumers to community partners, such as:  
West Care and West Care RDNS Nursing Clinic

 

Hutt Street Centre and Hutt Street Nursing Clinic 

 

Department of Human Services Remote Visitor Outreach Service

 

Uniting Communities

 

SA Housing Authority 

 

Towards Home Resolve – The Salvation Army 

 

St Vincent's Men's Shelter 

 

Salvation Army Sobering Up Unit 

 

Exceptional Needs Unit 

 

Baptist Care – Wardli-ana 

 

Aboriginal Sobriety Group 

 

Sonder 

 

Nunkawarrin Yunti 

 

Aboriginal Connection Program DASSA 

 

OARS Community Transition Program. 

 
Support through strong community connections
Also working to support those experiencing homelessness is CALHN's social work department, which has forged strong community connections.    
Linda is one of CALHN's senior managers in social work.   
"In 2021, significant changes were made by the SA Government and South Australian Housing Authority with the implementation of Housing 'Alliances' to service the complex and evolving needs of clients experiencing or at risk of homelessness," Linda said. 
Since then, the CALHN team has mainly been working with Towards Home Alliance and the North West Alliance which covers the network's sites.  
Linda also works to improve relationships and outcomes for CALHN consumers experiencing homelessness through being a member of committees, including the Adelaide Zero Project Inner City Sub Committee.  
"The Adelaide Zero Project is an across-system gathering of organisations to prevent and respond to barriers being experienced by people sleeping rough in the inner city," Linda said.  
One of the key areas CALHN assists in supporting consumers experiencing homelessness is at the point of discharge from hospital.  
CALHN's social work department currently provides patients discharged from the Royal Adelaide Hospital and The Queen Elizabeth Hospital with a homelessness pack that includes key information about services in the community.
In addition, CALHN's consumer experience team is putting together packs of useful items for those experiencing homelessness. 
CALHN and the Towards Home Alliance have also created the Health and Homelessness Working Group – including staff in social work, hospital avoidance, consumer partnering and Indigenous health – to focus more deeply on what happens when consumers leave hospital.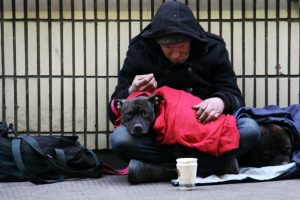 Almost 6,000 South Australians are currently experiencing homelessness, and are sleeping rough or in cars, on the couches of friends or family, or in overcrowded, temporary or unsuitable accommodation.
CALHN CEO Lesley Dwyer is participating in the Vinnies CEO sleepout for the 4th year to create a better understanding about homelessness and to help raise much-needed funds for food and shelter. Visit her fundraising page here.
Image of person sleeping on the street thanks to Jon Tyson on Unsplash
Image of man with dog thanks to Nick Fewings on Unsplash.