When Connie was rushed to the emergency department, daughter Di Marshall feared her beloved mother would never leave hospital.
But with the help of geriatric nursing and medical specialists under the Geriatric Rapid Intervention Program (GRIP), Connie was able to return her aged care home and continue her treatment in more comfortable and familiar surroundings.  
Connie is one of many patients to benefit from GRIP which provides specialised support to aged care residents to avoid unnecessary stays in hospital while easing pressure on the healthcare system.
More than 50 South Australians have been reviewed at the Royal Adelaide Hospital and 29 have been discharged earlier during the first 12 weeks of the program, freeing up more than 200 occupied bed days.
Under the pilot program originally developed under CALHN's COVID-19 response, a team of specialist nurses and geriatricians
 

Review and assess hospital admissions from Residential Aged Care Facilities and developed tailored care plans where appropriate to facilitate patients' move back to residential care

Assist in patient transition from hospital to Residential Aged Care Facilities with outreach support with Hospital in the Home – this may include visits from the GRIP team to aged care homes during the early days of transition
Provide a single point of contact for Residential Aged Care Facilities clinicians, general practitioners and SA Ambulance Service staff for geriatric advice and health navigation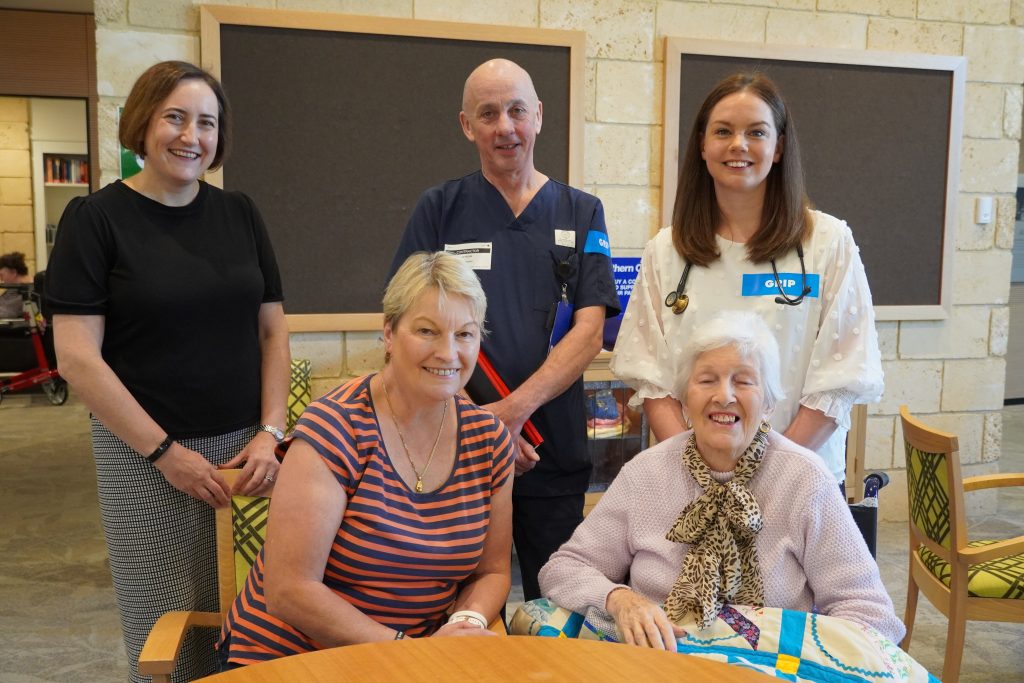 Royal Adelaide Hospital's Clinical Lead Geriatric Medicine Alice Bourke said GRIP is the only program that focuses on all three aspects of care and freed up over 200 occupied bed days.
"The phone service has received more than 40 calls and 70% of these calls have avoided presentation at the RAH," Alice said. 
The multi-disciplinary approach addresses some of the recommendations by the Royal Commission into Aged Care Quality and Safety findings released earlier this month. Among the recommendations included aged care residents receiving care at their place of residence via Local Hospital Network-led multidisciplinary outreach services.
So far feedback from consumers has rated the GRIP service as excellent or very good in providing advice for acutely unwell patients and avoided hospital admission.
Connie's story
Eighty-nine-year-old Connie, who has Alzheimer's disease, presented with aggressive behaviour to the RAH's emergency department.
To enable her discharge, the GRIP team and the acute geriatrics team came up with a treatment plan and adjusted Connie's medication to reduce aggressive behaviour.
Had her behaviour not been managed, Connie would have stayed longer than two weeks in hospital.
"After her discharge, we continue to work with her residential facility to make sure they enacted the changes in her care and treatment," GRIP Registrar Catherine Wilkes said.
"We were a point of contact for the facility and her daughter Di so there was continuity in Connie's care."
GRIP Geriatric Nurse Consultant Mark Dallman said the team supported Connie's transition from hospital, which included calling the residential aged care facility everyday to monitor her health.
"If there was any escalation in behaviour, the residential facility would call GRIP rather than calling SA Ambulance," Mark said.
Daughter Di Marshall praised the GRIP service, which she said was "a Godsend".
 "I was so concerned that she (Connie) was going to end up in a dementia facility if her behaviour did not get under control," Di said.
"The GRIP team was very easy to contact if I had any questions about my mother's care."
Like Di, family members of other aged care residents were grateful for GRIP in providing an opportunity for patients to continue treatment in a comfortable setting and did not feel that emergency departments were the only option to seek urgent medical care.