A set of outside eyes can bring a fresh perspective.
That's a core part of the value of the Nimmo Visiting Professorship, an annual highlight of the Central Adelaide Local Health Network (CALHN) educational program.
In 2023, CALHN's visiting Professor is Warren Sandberg, chair of the Department of Anesthesiology at Vanderbilt University School of Medicine and Professor of Anesthesiology, Surgery, and Biomedical Informatics. He also serves as Chief of Staff for the Vanderbilt University Adult Hospital.
Over a series of activities over two weeks in November, Professor Sandberg has participated in clinical and academic activities at CALHN, meeting with our senior doctors to offer his expertise as a healthcare and hospital leader.
Associate Professor Jo Thomas is Medical Lead for Medical Education at CALHN.
"While there are a lot of differences between our healthcare system and that in the USA, there are also some real commonalities in the challenges we face," said Jo.

"Professor Sandberg was able to give us real insights into ways to tackle problems in health."

"He shared with us the value of clinician engagement in system change, in coming together as high-functioning teams, in closely examining outcomes, and in persistence in querying and looking for ways through."
Nimmo Research Prizes 2023
As part of his schedule, Professor Sandberg was a judge in CALHN's 2023 Nimmo Prize, an award that recognises excellence in early career research.
CALHN research aims to deepen understanding of disease mechanisms and prevention, explore new treatment options and develop diagnostic and predictive tools for disease detection and assessment.
The Nimmo Prize is open to medical staff in all CALHN departments and units, and is awarded in two categories:
FULL TIME: Research undertaken while working principally towards a higher degree
PART TIME: Research undertaken while employed substantially in a clinical role.
In 2023, 13 candidates were considered for the two research prizes. Each researcher presented a five minute scientific talk for assessment by Professor Sandberg along with the two other judges: CALHN's Professor Chien-Li Holmes-Liew and CALHN consultant physician and Dean of Adelaide Medical School, Professor Danny Liew (shown in lead image).
The winner of the Full Time Research Nimmo Prize 2023 was Dr Oscar Russell, for his research investigating the impact of socioeconomic status on visits to GPs and specialist physicians by patients with inflammatory arthritis.
The winner of the Part Time Nimmo Prize 2023 was Dr Brandon Stretton for his research into the impact of malnutrition, frailty and socioeconomic status on patient outcomes after surgery.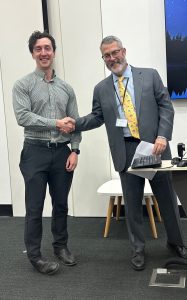 Commenced in 1969, the Nimmo Visiting Professorship is named for Rowland Harrold Nimmo, who bequeathed half a share of the residue of his estate to Royal Adelaide Hospital. As a result of this bequest, a portfolio of shares, stock and debentures was transferred to the Commissioners of Charitable Funds in 1963.