Residents in Adelaide's western suburbs can now see the site change before their eyes, as demolition works begin as part of The Queen Elizabeth Hospital (TQEH) redevelopment.
Construction teams and onlookers gathered to watch the toppling of the old bank building, which will make way for the new state-of-art clinical services building.
The Stage 3 of the redevelopment will see $314 million to modernise TQEH and increase emergency, critical care and surgical capabilities for patients in the western Adelaide suburbs.
Central Adelaide Local Health Network (CALHN) Executive Director of Capital Projects and Planning, Rachael Kay, says the project will not only revitalise the site, but will also improve health services for the local community.
"The redevelopment will ensure our community has access to high-quality healthcare services in a contemporary facility that will meet their future needs," Ms Kay said.
The new clinical services building will include a larger, modern Emergency Department that is expanded to 46 treatment bays including a four bed behavioural assessment unit, 12 operating theatres with recovery areas,14-bed intensive care unit, Cardiac Catheter Laboratory and procedural suite, 52-bed inpatient rehabilitation facility, central sterile supply department, medical imaging department, pathology laboratory and support staff areas.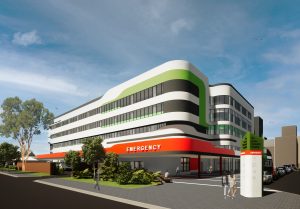 (Pictured: prospective views of the new clinical services building)
The start of the demolition signifies a major milestone in the historic redevelopment project and from here, staff patients and visitors will see the site transform as we head towards construction," Ms Kay said.
Ms Kay also thanked the CALHN staff and consumers for their involvement in the building design that ensures the building will not only be fit for purpose when it opens, but will also meet the future needs of the community.
With significant works now underway, TQEH redevelopment is expected to be completed in 2024.
Watch some of the footage of the demolition here