In a game-changer for the treatment of rib fractures, patients are recovering better and with less pain thanks to an innovative new technique that has been trialled and implemented at Royal Adelaide Hospital.
Anaesthetist Dr Gilberto Arenas said while rib fractures are common, occurring in about 12 per cent of patients suffering trauma, patients often suffer severe or even deadly complications.
"More than half of patients who present with blunt chest trauma have rib fractures, which often happen after vehicle accidents, falls and crush injuries," Dr Arenas said.
"The impact can be quite severe on the lungs and there is a risk of pneumonia if patients aren't able to breathe properly because of the impact and pain.
"Many of these patients require admission to the intensive care unit."
Traditionally strong painkillers such as morphine and Fentanyl, known as opioids, have been used to treat pain.
"Unfortunately, these drugs can make people feel sleepy and nauseous. They can also increase the risk of pneumonia by depressing the natural urge to breathe deeply and cough," Dr Arenas.
"Pain management is vital for a patient's recovery and the Erector Spinae Plane Block (ESPB) technique has been a game changer.
"The procedure involves using ultrasound to find the erector spinae muscle, this allows a doctor to inject local anaesthetic directly onto nearby nerves which transmit pain signals from the broken ribs.
"It is highly effective and in many patients enables them to breathe easier and gain mobility quicker, minimising the use of opioid painkillers.
"If rib fractures aren't managed properly, patients may end up spending longer in hospital and, in extreme cases, may need to go on a ventilator in intensive care.  This can lead to significant long-term impacts for the patient and even death."
Other techniques which have been used for fractured ribs, including epidural and paravertebral blocks, are technically difficult and more complex to manage.
ESPB are simpler and safer to perform, often allowing patients to leave ICU earlier.
Dr Arenas and Dr Johanna Somfleth are currently reviewing ESPB and anticipated their findings to show that most patients have improved lung function and reduced pain with the absence of serious side effects, similar to international studies.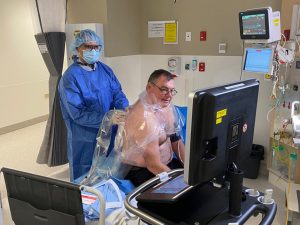 Tim's story
After falling backwards off of a step ladder while working, patient Tim fractured 11 ribs.
"I've had rib injuries before playing football in the 80s and I'll never forget it, it was probably the worst month of my life I was in a hell of a lot of pain," Tim said.
"I knew it was going to be long haul and a lot of pain along the way, but it's been pretty good really considering."
That's primarily due to pain relief from the Erector Spinae Plane Block (ESPB) technique, which was used during his care at the RAH.
Initially he was reluctant because the procedure involved an injection, but after feeling nauseous and foggy on the opioid Fentanyl, he opted for the ESPB.
"From then on, all the nausea and unclear head disappeared. It took the pain away straight away" he said.
"It's not restricting me at all once on my feet and I'm able to walk around with a bit of pace. It's a lot easier to breathe and a lot more comfortable."
Tim is recovering well, months on from his injury.
Pictured Tim with Dr Christine Huxtable and Dr Gilberto Arenas.