When Eliza was diagnosed with type 1 diabetes at just nine years old, she immediately told her mum that she wanted to be a diabetes educator.
20 years on, Eliza has achieved that dream becoming both a Diabetes Nurse Educator at CALHN, and a passionate advocate for type 1 diabetes.
Eliza quickly got involved with the Juvenile Diabetes Research Fund and was soon giving talks at fundraising events as a 9 year old.
"When I turned 21 I walked from Adelaide to Melbourne to raise money and awareness, and to prove to people I could achieve anything."
Raising over $25,000, Eliza battled through stress fractures, blisters and torn tendons to complete the walk. Her injuries were so severe they required surgery afterwards, and she was in a moon boot for 6 months.
Despite her extensive injuries, Eliza who as a mental health nurse at the time wasn't finished raising money for type 1 diabetes.
"It was quite addictive. I wanted to do something bigger again."
So in 2019 Eliza set off on her biggest journey yet, walking 4,300km starting in Southern Italy and making her way through Switzerland, France, England and Scotland.
"It was pretty insane. Looking back it was amazing but really tough."
While the 6 month solo trek raised over $73,000, it didn't come without its challenges – from people trying to get her in their cars, wild dogs chasing her through rough terrain, and days filled with incredible physical pain.
"I think working in mental health probably helped me, but so has living with diabetes – I've overcome that many obstacles and challenges. I've been pretty resilient through that time and I think that's built my skills in any situation."
Eliza believes for many reasons that diabetes was the best thing to ever happen to her and has pushed her to do so much.
"I guess some of the tougher days were the fun days. So I'd just try to focus on getting through – giving up was never really an option."
Whilst a 4,300km trek is no small feat, doing it whilst living with diabetes was one of the most difficult aspects of Eliza's trip. Without the technology she usually has access to at home, she often found herself in situations where she probably wasn't far from needing to go to hospital and says she's lucky she hasn't ever ended up in hospital for diabetes.
"Working here has made me take some of those situations a little more seriously. Obviously at the time I didn't have a choice, I didn't have anyone to call or come help me or a hospital nearby."
Now recognising the times where she could've become really unwell, Eliza uses her experiences to stress the importance of being prepared when traveling to her patients.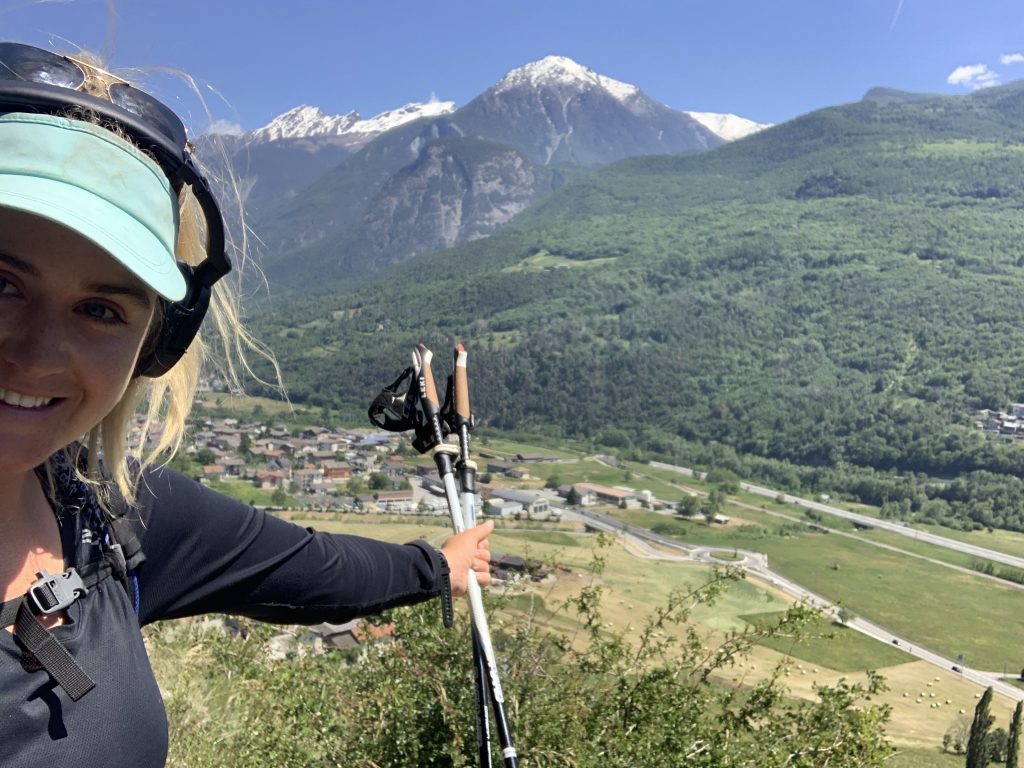 Growing up, Eliza knew she wanted to help kids who had been newly diagnosed with diabetes like herself. Since coming into her role at CALHN however, she is moved by a different kind of patient.
The Diabetes Nurse Educator finds working with older patients with type 1 and 2 diabetes the most rewarding.
"You see obstacles they've overcome, and they've lived with diabetes for 60 years when the technology we now just expect to make our treatment a lot easier wasn't around. And they've lived so long and lived quite a healthy life, it inspires me to do the same."

"They're the type of people I get a lot out of and I want to help them live their best life and not let diabetes stop them. That's why I'm in this role, to show everyone that diabetes doesn't have to stop you and you can do whatever you want."
On top of the daily work to manage their condition, the stigma and judgement that can come with a diagnosis can have a significant impact on people living diabetes.
"There's also quite a big stigma around living with diabetes, in the news you look at it and it's all about being unhealthy. Still, people with type 1 diabetes get people asking them why they are eating too much sugar, when it is nothing to do with that at all."
Eliza's advice this National Diabetes Week?
"Accepting someone, realising it's such an individual illness, and chatting with them to see how you can help them best."
National Diabetes Week
National Diabetes Week for 2022 is being held from 10 – 16 July and aims to tackle diabetes-related stigma by changing the conversation to end the blame and shame for people living with diabetes.
More than 80% of people with diabetes have experienced judgment or been treated differently by the community, family members and health professionals because they have developed diabetes.
This National Diabetes Week we ask you to rethink how you think about diabetes, and help end the stigma surrounding those living with this lifelong disease.
For more information, visit Diabetes SA and Diabetes Australia.