In an act of kindness, Aboriginal students at Prince Alfred College have embraced their creativity creating small paintings, coasters, and cards to provide to Aboriginal patients across Central Adelaide sites. 
Aboriginal Students Coordinator Monica said the students from reception to year 12 wanted to do something for Aboriginal people who are unwell in hospital to let them know they're not alone.
"These times are really tough and even if there wasn't COVID we'd still be wanting to do something for those who are feeling lonely and unwell," Monica said.
"Coming together and thinking outside of ourselves and uniting as a group to do it together is really powerful.
"I hope the patients' spirits are lifted and they've got something in their hands that they go I'm not alone, someone is thinking of me and how cool is it that kids are reaching out to us."
Year 7 student Henry said his painting was inspired by different paths and different Aboriginal languages coming together and sharing culture.
"We wanted to let them know someone is thinking of them and we hope that they get better.
"It's good for people to take time to create something to keep their spirits' up and to be strong."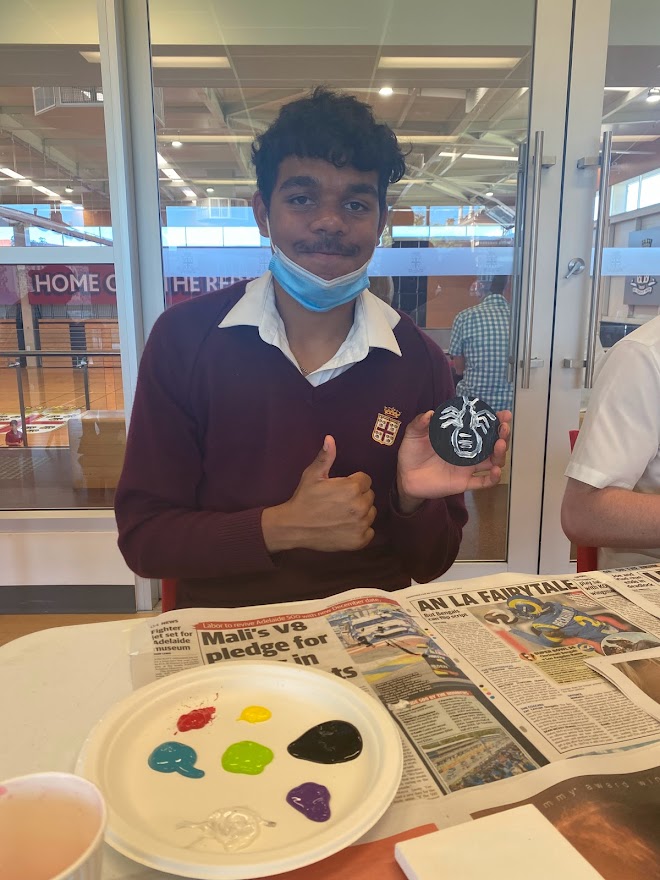 Year 12 student Trasen painted a honey ant on a small canvas and hopes it will give someone a boost.
"I hope they feel they're back at home and enjoy it and know that we're thinking of them."
CALHN Aboriginal Health and Research Translation Director Trish thanked the students for their kindness and creativity. 
"It's wonderful that the students are thinking of our patients at this time and we look forward to sharing the artworks with them."
The artworks and cards will be distributed by staff from the Aboriginal Health and Wellbeing hub in the coming weeks.