The Queen Elizabeth Hospital COVID-19 (Coronavirus) Testing Clinic opened on Wednesday, 16 September to help provide easier access to testing for the local community.
While South Australia does not currently have any active COVID-19 cases this clinic will make it easier for the western suburbs community to access a test.
Testing is an important way for to provide protect the South Australian community through monitoring and early detection allowing us to quickly address to any new confirmed cases of COVID-19, to limit the spread of the disease, and inform and support our official health response.
Located outside of the new multi-deck car park, local residents can present for testing at the walk-in clinic without an appointment or a referral from a GP. The clinic will be open 7 days per week from 9am to 6pm.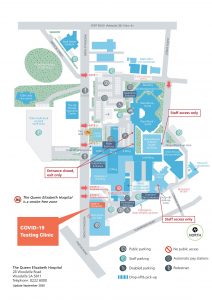 If you are feeling worried but well, call the South Australian COVID-19 Information Line on 1800 253 787 or call the South Australian COVID-19 Mental Health Support Line on 1800 632 753.
For information about how to get tested and what to do after your test, see the Testing for COVID-19 page.
For more information and resources, visit the Coronavirus disease 2019 (COVID-19) page.