A Central Adelaide Local Health Network (CALHN) service is helping older people remain at home while ensuring they continue to receive a high standard of care.
Integrated Care's Geriatric in the Home (GITH) service helps provide care to older people in their residence while also easing pressure on our hospitals.
The GITH team recently reached an exciting milestone – they treated their 1000th patient, Geoffrey.
His wife Philippa expressed her thanks to CALHN for their care of her husband.
"We are so grateful for the assistance of the GITH team," said Philippa.

"It has made such a difference to Geoffrey."
High demand, low readmission rates
As part of GITH, patients like Mr Shepherd receive holistic, multidisciplinary geriatric care in their own residence. They are still considered RAH in-patients, and can receive up to three home visits per day from team members, along with access to video call services and 24-hour telephone support.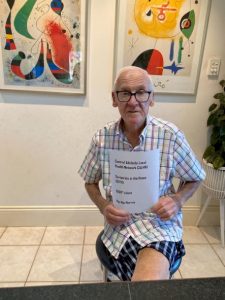 GITH is part of CALHN's wider Integrated Care Hospital Avoidance Service, which supports patients to avoid unnecessary hospital admissions and offers early discharge pathways so people can rest and recover in their own homes.
Nurse Unit Manager Jackie said GITH is hugely successful, with high demand for the service and low readmission rates.
Patient surveys show high levels of satisfaction in those who have used GITH.
"The GITH service was commenced in August 2021 with 5 beds and quickly increased to 20 beds to meet demand," Jackie said.

"Through a lot of hard work over a very challenging couple of years, I'm thrilled we have reached this 1000 patient milestone with Geoffrey."
Supporting people in their own homes
Jackie said there are two core aspects of GITH that contribute to its value: GITH enables older people to remain in their home and receive high standard of care, and it lowers pressure on the public health system.
"Having a service that supports early discharge from hospital or complete hospital avoidance by direct admission works well for the older person," said Jackie.

"Older people have amazing resilience in their own environment, which can often be missed or overlooked as an inpatient in a busy hospital."
Jackie has been with GITH since its inception; she was the first person employed in the program, and played a central role in its development and recruitment of staff to build the team to nearly 20 members.
The service includes clinical nurses, occupational therapists, allied health assistants, physiotherapists, dieticians and geriatricians. Together the team offers therapies and treatments in patient homes such as pain management, wound care, infusions and other treatments, medication review, blood collection, as well as assessments for falls risk and cognitive function.
Some members of the GITH team. 
Lead image attribution: CDC on Unsplash