For many patients, psychological support can be an integral part of their recovery.
The CALHN Psychology Department, led by directors Anne Burke and Kathryn Collins, works with both inpatients and outpatients across our sites including the Royal Adelaide Hospital, The Queen Elizabeth Hospital (TQEH) and Hampstead Rehabilitation Service.
Coping with pain can be a key reason patients are referred to psychology, and this year's National Psychology Week is highlighting the contribution of psychology in the pain field.
Whether it is chronic or acute pain, procedural pain, pain experienced during treatment, post-operative or in rehabilitation; the aim is to reduce emotional distress and to assist the patient to develop adaptive coping strategies.
"In an inpatient setting, we can work with patients to reduce distress associated with pain and to develop their confidence to cope with any pain they might experience through treatments and procedures," CALHN Psychology Senior Manager Michelle Martin said.
"We also have a team of psychologists in the Pain Management Unit at TQEH who specialise in working with chronic pain where they provide education and interventions to assist patients in more effectively managing chronic pain.
"Irrespective of the area in which they work, our psychologists are aware of the impact of pain and the importance of addressing psychological issues that may hinder a patient's natural coping abilities.
"When people think of psychology, they often just think of clinical psychologists who specialise in therapies to treat a range of mental health disorders.
"However CALHN employs a diverse range psychologists with backgrounds including clinical psychology, health psychology, and clinical neuropsychology, all with postgraduate qualifications, and all with a significant role to play."
Pictured in feature image are Jasmine Roy (Clinical Neuropsychologist), Suzy Hackett (Clinical Neuropsychologist), Olivia Cullen (Youth Cancer Service & Psychology Consult Service) and Grace Bowman (NDIS AH assessment team).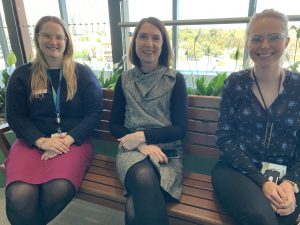 Pictured above L to R are Suzy Hackett (Clinical Neuropsychologist), Kathryn Collins (Co-Director of CALHN Psychology) and Olivia Cullen (Youth Cancer Service & Psychology Consult Service).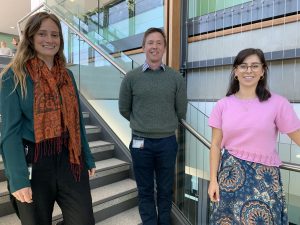 Pictured above L to R are Alexandra Mannarino (Cancer Service), Paul Taylor (CF Service) and Lily Robinson (Psychology Consult Service).