To coincide with Allied Health Professions Day (October 14), Central Adelaide Local Health Network (CALHN) is shining a spotlight on our dedicated allied health practitioners and their diverse contribution to providing world-class care to our patients and the community.
Allied health professionals are university qualified practitioners with specialised expertise in preventing, diagnosing and treating a diverse range of conditions and illnesses.
Allied health practitioners often work within a multidisciplinary health team to provide specialised support for different patient needs.
We asked some of our allied health staff about their role in improving the health and wellbeing of their patients.
Bradley (Cardiology Physiologist):
Cardiac Physiologists are highly trained allied health professionals involved in the clinical diagnosis and treatment of patients with heart conditions. This includes performing ultrasound of the heart (echocardiograms), technical implant and follow up support of pacemakers and other implanted devices and assisting heart catheterisation in the technical suites.
In my role as a Cardiac Electrophysiology Physiologist, I operate technical equipment for cardiac stimulation and mapping to diagnose abnormal heart rhythms and provide treatment by catheter intervention to improve patient outcomes.
I am very fortunate in this Allied Health role to have a direct and meaningful impact on patient outcomes. Providing high quality healthcare as a Cardiac Physiologist is both challenging and rewarding, but I have sought to further care services in this role by undertaking clinical research as a PhD candidate.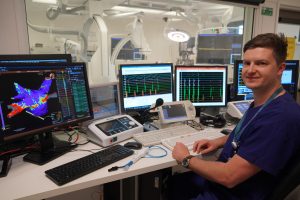 Suzy (Neuropsychology):
Clinical Neuropsychology is a branch of psychology specialising in how behaviour and cognition are influenced by brain functioning. We have skills in assessment, diagnosis, and intervention for cognitive disorders across the lifespan and across a variety of conditions that can affect the brain, such as neurological, developmental, and psychiatric disorders.
Clinical neuropsychologists provide assessments, treatment recommendations, and cognitive strategies for people experiencing difficulties with memory, attention, language, problem-solving, decision-making, or other aspects of behaviour and thinking abilities.
People might see a Clinical Neuropsychologist following a stroke or brain injury to help identify cognitive deficits, predict functional outcome, and monitor patient recovery.
We work with other allied health disciplines to support patients with their rehabilitation goals, such as returning to work and driving. We can help clarify diagnoses of dementia and other neurological conditions early, so that timely intervention and treatment planning can occur. We can also help assess those needing support making decisions about their health and lifestyle.
Psychology – Pain Management Unit
People with persistent pain often feel invalidated and misunderstood, leading to difficulties in managing their pain experience. Pain Management Unit Psychologists participate in multi-disciplinary assessments, facilitate cognitive behaviour therapy group programs, and conduct rural outreach visits, as well as individual therapy.
We utilise a biopsychosocial approach that focuses on the strengths of patients, empowering them to address distress and functional difficulties associated with their pain. We draw from current pain science research to help patients work towards realistic goals and engage in self-management techniques that can down-regulate their pain. For example, we scaffold problem-solving and encourage increased engagement in valued and meaningful activities that help with mood management. Concurrently, we focus on pain acceptance and supporting patients to consider their pain in a more compassionate way. Finally, we collaborate with them to develop a long-term self-management plan that involves improving sleep quality, relationship communication, mindfulness, distress tolerance strategies, and challenging unhelpful thinking patterns.
Left to Right: Annie , Marie , Tatjana , Sze Yan , Michelle
Dr Sophie (Clinical Psychology)
Clinical Psychology in mental health rehabilitation is flexible and responsive to individuals' needs. At CALHN's Community Clinical Rehabilitation Service, we provide input wherever is most comfortable for the person – in their home, the community or our clinic. We take a holistic approach to applying evidence-based therapies, assisting individuals to increase self-management and self-direction, adopt a recovery-mindset and build the life they want to live.
Interventions might involve helping people identify their strengths, applying these to future goals (e.g., studying, volunteering or gaining employment), learn skills to help make meaningful social connections or cope with distress, and connect with their community.
Ultimately, by empowering people to take the lead in their recovery, we help to increase their confidence in their skills and resilience to manage ongoing symptoms and mental health episodes, which in turn improves their overall health and often the direction of their life.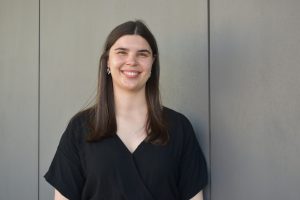 Matt (Vestibular Physiotherapy)
Vestibular Physiotherapy can assist in the management of dizziness, vertigo and unsteadiness, especially if these symptoms are triggered, or made worse by movement. In many cases dizziness that is worse with movement is caused by a disorder involving the inner ear (vestibular system) and can cause significant symptoms, impaired function and reduced quality of life for the person affected.
Vestibular Physiotherapy involves comprehensive assessment to determine the most likely cause of symptoms and the best approach for management including education and exercise.
Vestibular Rehabilitation is an exercise-based program designed and graded specifically for each individual patient to improve balance and reduce the symptoms of dizziness with movement, improve walking and assist people in to get back to normal everyday activities.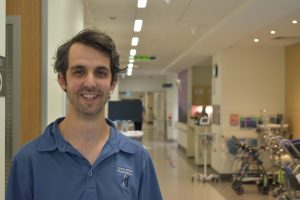 Paige (Nutrition and Dietetics)
Dietitians are health professionals who specialise in both the clinical management of a wide range of conditions and the prevention of ill health and chronic disease through medical nutrition therapy.
Nutrition therapy within CAHLN's Spinal and Brain Injury Services is individualised, supporting recovery and rehabilitation through improving physical and mental function to achieve patient centred outcomes and improve overall quality of life.
This is often achieved through oral nutrition support (snacks and commercial supplements), therapeutic diets  and enteral nutrition (tube feeding via percutaneous endoscopic gastrostomy (PEG) or nasoenteric tube (NET)).
Dietitians work with individuals to enhance their nutritional health post injury, considering the myriad of functions and roles played by food in our lives and in our communities. As with other disciplines, we are involved in goal setting with patients to identify nutrition goals. We work closely with other members of the multidisciplinary team in supporting a patient's rehabilitation journey.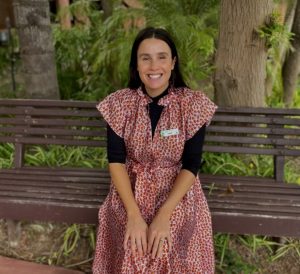 Kavita (Audiology)
Audiology is the branch of science concerned with the sense of hearing. Within CALHN hospitals, the Audiology department specialises in diagnostic assessments for hearing and balance.
These assessments are often used to support decision-making about treatment plans for patients.
Sometimes, it may be prior to surgery, while at other times it may be while patients are admitted within hospital, for example, after a traumatic brain injury.
We perform an important role of monitoring hearing when patients are administered with ototoxic medication for a variety of reasons (e.g. chemotherapy).
We also offer a unique service, within the hospital, to loan out Assistive Listening Devices to patients who are Hard of Hearing to alleviate their communication concerns while admitted within the hospital.
I believe I try my best to ensure that I always treat my patients with a smile and a friendly manner.
Caity (Senior Pharmacist – Infectious Diseases/Antimicrobial Stewardship)
As an Antimicrobial Stewardship and Infectious Disease pharmacist I have played in integral role in CALHN'S COVID-19 response. Over the past two and a half year years we have learnt lots about how best to treat and prevent COVID-19 including the important role medications can play.
We know that when high-risk people are treated with COVID-19 medicines early, they have a better chance of staying out of hospital or if they do come to hospital, a better chance of survival.
Part of my role is to make sure that people receive the best medication-related COVID care.  This is achieved by developing COVID-19 medicines treatment guidelines for clinicians as well as medicine information sheets for consumers and by ensuring the most high-risk consumers have access to medications which help them stay out of hospital.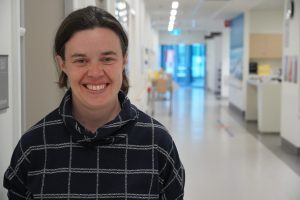 Hannah (Podiatry)
The CALHN Podiatry Department is a specialist unit providing care to patients post-amputation, with active ulceration, infection and complex conditions of the foot and ankle.
The department provides both inpatient and outpatient services as an integral member of the multi-disciplinary high-risk foot team. This team consists of multiple specialties including Vascular Surgery, Endocrine, Infectious Diseases, Nursing and Orthotics & Prosthetics.
More recently, we have further advanced this service to offer this specialist care via the CALHN Telehealth Foot Service, to increase timely access to gold-standard care for patients living remotely.
Many of our patients have limited mobility, poor blood supply or peripheral neuropathy. Our service aims to identify these 'high risk' patients and implement an appropriate management plan to avoid a lower limb complication. The service endeavours to reduce hospitalisations, prevent readmission and contribute to improved quality of life for our patients.
The CALHN Multi-disciplinary High Risk Foot Clinic has achieved national accreditation with the National Association Diabetes Centres. Members of our team are actively involved in research and technology innovation, professional development and education.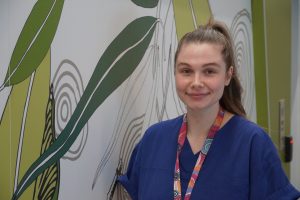 Bronwyn (Radiography)
For over 25 years, I have had the privileged role of Advanced Clinical Educator for BreastScreen SA.
BreastScreen SA aims to reduce illness and death from breast cancer by detecting the disease at an early stage, via a population-based screening mammography program.
Our highly-skilled and compassionate radiography staff must undergo rigorous training to achieve a high standard of mammography so that cancer detection can be maximised.
In leading BreastScreen SA's Mammography Education Centre at UNISA, I enjoy delivering expert training programs to undergraduate and postgraduate radiographers.
To support our fit‑for‑work program for radiography staff, I had the opportunity to work with other Allied Health Professionals to research, develop, disseminate and implement mammography ergonomic strategies. This online training resource has significantly reduced work injuries for radiographers at BreastScreen SA and improved staff wellbeing.
It is an honour to work with radiographers who are passionate about providing the best possible care for the women of South Australia.