A specialised exercise therapy program for cancer patients has received a World-Class Care Award during CALHN's World Class Care Day.
The Move Through Cancer program, based at The Queen Elizabeth Hospital, is a physiotherapy led outpatient initiative and provides tailored exercise therapy to patients at various points following diagnosis.
"I feel really proud," said Katy Lockwood, Senior Physiotherapist, Cancer.

"I love this program and I think that we can provide such valuable care to patients undergoing cancer treatment and it's really nice that the program has been acknowledged for the really positive work that it does."
Meeting a need
Patients undergoing cancer treatment experience high levels of fatigue and reduced fitness as a result of their disease as well as the direct toxic effects and indirect consequences of anticancer therapy.
Early detection and improvements to treatment have led to a 30 per cent decline in cancer deaths over the last decade. While this is a major marker of healthcare success, it represents a new challenge: to address the unique health issues facing a growing number of cancer survivors.
There is a wealth of evidence supporting exercise for people living with cancer. Benefits include reductions in anxiety, depressive symptoms, fatigue, lymphoedema, and improvements in health-related quality of life and physical function.
Proven benefits
Given that many participants are undergoing acute cancer treatment whilst attending the program, maintenance of physical function is a significant achievement.
Including a 600 per cent increase in average weekly physical activity, participants have demonstrated significant improvements in physical function, strength and fitness as well as fatigue.
While many people are highly motivated to participate and reap the benefits of the program, others took some initially convincing.
By his own admission, Mr. K reluctantly attended the Move Through Cancer program encouraged and facilitated by his wife.
"His wife dragged him along, but then he grew to love and look forward to the classes, he was so happy to be there," recalled Ms Lockwood.
Initially, Mr. K attended classes unable to push his own wheelchair due to fatigue and lack of strength. Following the 8-weeks, he saw significant improvements on all physical outcome measures as well as important functional improvements benefitting his overall quality of life.
"I can move more freely and safely – I am confident in myself again. I look forward to each session and setting new goals for myself with the physiotherapist. Each session I feel stronger," reflected Mr K.
By the end of the program Mr. K no longer attended the program in his wheelchair and was confident to drive himself alone to the session. The renewed independence has also allowed his wife returned to work.
"Knowing I can do more takes the pressure off worrying about my wife and how she can cope with falls etc," he said

"Some days I feel I am not even ill! I have my pride back. I feel I am more in control of myself again and my cancer. Instead of needing help for so many things, I can now do these again myself."
The Move Through Cancer team have received many more examples of positive feedback on the program.
"It's great to hear that people are finding so many benefits from participating in this program. Patients' have reported finding a lot of physical, psychological and social benefits from it. So it's really satisfying to receive this feedback," said physiotherapist Ashleigh Powell.
About the program
Significant demand for the program since establishment demonstrates the need such a service. The program has been exceptionally well received by both participants and referrers, demonstrated by high participant satisfaction and ongoing high volumes of referrals.
By conducting a literature review and consulting with external cancer rehabilitation research specialists, the Move Through Cancer team designed the program based on the best evidence.
Participants attend classes twice a week for 8 to 12 weeks and all programs are individually tailored, combining aerobic and resistance training. Where suitable the program is delivered in a group setting, with options for delivery over telehealth, which has been scaled up dramatically since an increase in COVID-19 cases in South Australia. The program's flexible design allows for patients to receive the best standard of care concurrently with other cancer management.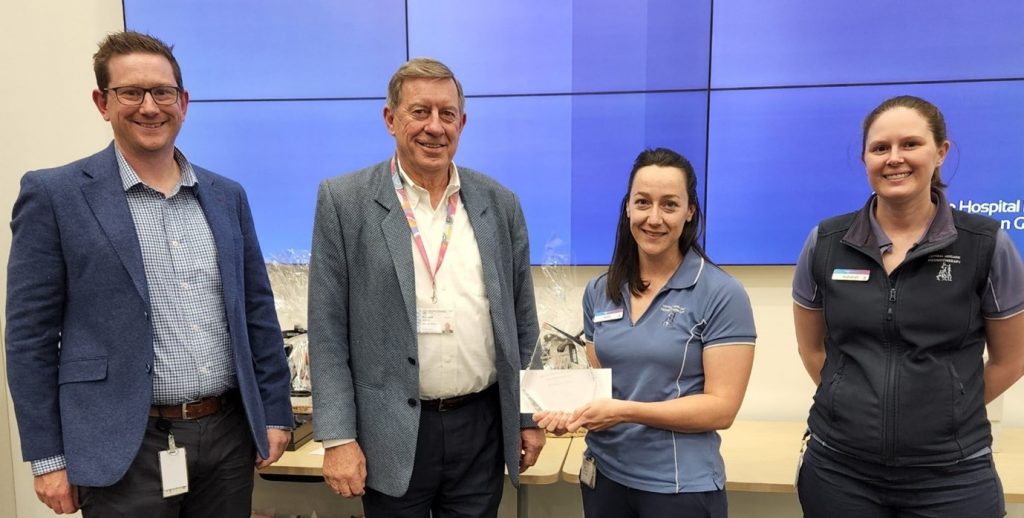 The Move Through Cancer program is run at The Queen Elizabeth Hospital by Leigh Rushworth, Principal Physiotherapist (left), Katy Lockwood, Senior Physiotherapist, Cancer (Centre-right) and Ashleigh Powell, Physiotherapist (right). Also pictured: Raymond Spencer, Chair of the Central Adelaide Local Health Network Governing Board (centre-left)