Four initiatives which have had a positive impact on patient care were recognised at the Central Adelaide Local Health Network's (CALHN) World-Class Care Showcase on Wednesday.
Now in its third year, the awards were established to acknowledge and celebrate the innovative work that occurs across the network every day.
These projects were recognised for their innovation and delivery of better health results and enhance service delivery.
Patients as partners
Winner: Diversional therapy | Helen Burvill, Natalia Djukic, Dr Bruno Franchi and Bettina Stefani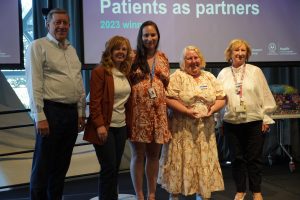 To help address patient behavioural disturbances, such as aggressive or threatening behaviour, relating to dementia in the Specialist Geriatric Unit at Hampstead Rehabilitation Centre, a new diversional therapy program was set up.
The program consisted of twice-daily diversional therapy, within a multidisciplinary setting, that focuses on the management of behavioural and psychological symptoms of dementia. This was found to have decreased patient anxiety, contributed to patient happiness, and reduced behavioural disturbances and incidence of 'Code Blacks', emergencies related to personal threats.
Integrated healthcare
Winner: Intravenous treatment at home pathways | CALHN Hospital In The Home (HITH) team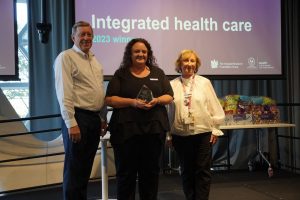 Initial recommendations for COVID-19 treatments were for administration in-hospital or in-clinic.
However, escalating demand during the COVID-19 pandemic made the recommendations unsustainable, and placed a greater risk of infection to patients travelling to hospital and clinical sites.
The CALHN Hospital in the Home (HITH) service lead the way with intravenous treatment at home for high-risk patients with COVID-19.
The patient-centred and flexible approach allowed the delivery of care at the right time and place which was scalable to meet the changing demands of COVID-19 infection waves.
Improving safety and quality
Winner: Improving outcomes for older patients with multiple myeloma – a case management approach
CALHN provides the largest service in South Australia for patients with the blood cancer, myeloma, as well as specialist services for the Northern Territory and the western borders of New South Wales and Victoria.
Having a myeloma nurse specialist can improve patients' quality of life, facilitate early identification of toxicity related to therapy, and enhance adherence to medication resulting in overall improved patient outcomes.
To help patients with multiple myeloma, the Cancer Program at CALHN adopted a patient-centred approach. The Myeloma Nurse Consultant (MNC) acts as the central point of contact providing education and clinical care coordination, including linking patients to support services, and assisting navigation through the complex healthcare system.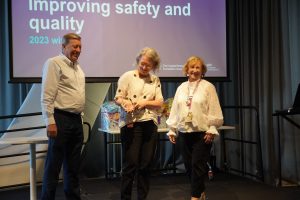 Innovation in healthcare
Winner: My Prehab Program – A hospital initiated, community-based prehabilitation program | Prof Jane Andrews, Ellie Bills, Anastasia Dimopoulos, Vicki Hume, Mandy Nolan, Ecushla Linedale, Jackie Yeoh and Sharon Coles
Medical complications after surgery are common and cause illness and can even result in death. They can also reduce access to care for other patients by occupying hospital bed space and they also contribute to hospital costs.
The lengthy wait times for elective surgery provide an opportunity to address factors that increase risk of complications after surgery ahead of time. This could be reducing smoking, or improving diet and physical activity.
My PreHab Program is an innovative, tech supported, scalable approach to screen patients for modifiable risk factors prior to elective surgery and enable targeted health information for their GP.