Empowering patients to take more control over their dialysis treatment is at the core of an initiative that has been revitalised at Hampstead's renal unit.
The focus on patient-participation in care has been driven out of the COVID-19 experience.
As services at the Royal Adelaide Hospital were relocated from a hospital setting, and there was a greater push to provide services to patients in community settings.
A growing burden
"The global burden of chronic kidney disease is continuing to rise," Specialty Medicine Program Manager, Arish Naresh, explains.
"This impacts the lives of patients who need ongoing dialysis or a transplant to stay alive, as well as the health system with treatment costing an estimated $12 billion a year nationally.
"So we have taken this opportunity to look at how we are doing things and what we can be doing better for our patients."
Alternative care options
There are varying levels of participation which are based around the patient's capability and desires to take part. These include:
shared care with clinician support,
self-care where patients manage more than 80 per cent of treatment themselves, and
home care where patients learn to completely dialyse themselves.
"Because our patients have to dialyse numerous times a week for up to five hours a day, a lot of patients already participate in their care and share involvement with the nursing team," Home Dialysis Training Nurse Unit Manager, Michelle Ovenden, said.
"Self, shared and home care is really about the consumer driving the care they want.
"There is good evidence that people develop a positive outlook, feel better and more in control, if they understand more about and involve themselves in their own treatment.
"Twenty years ago, self-care was the norm for patients and we're now working towards a move back to that because of the benefits for them.
"This is really about giving patients choice to drive the care that they want."
Some patients then choose to move on to home haemodialysis where they can complete all of their treatment at home, with support over the phone or at home when needed.
Self-care: Jess's story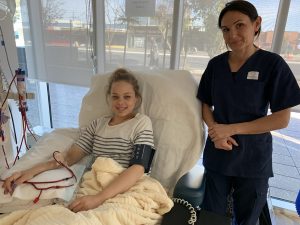 Jess Schuyt, 28, was diagnosed with Goodpasture syndrome – a rare disorder when the body mistakenly makes antibodies that attack the lungs and kidneys – when she was 16.
A kidney transplant from her Mum lasted 10 years, but unfortunately failed after a medication change, meaning she is back on dialysis and participating in self-care.
"Knowing my machine, I understand what it's doing how it's filtering and how it makes me feel," she says.
"I feel a lot more in control. The first time I was doing it, I was a child and the doctors were talking to my mum. This time I'm the adult and I'm in control.
"I come in early and set myself up and am ready to go. It's gotten easier and quicker to do – the process has dropped from 45 to 15 minutes."
About 20 per cent of self-care patients will move onto the home care program, with support just a phone call away and the option for a home visit or to come into the renal unit for respite.
Jess is pictured with Georgie Goranova
Home care – Cliff's story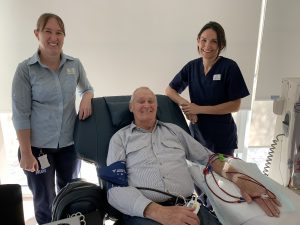 66-year-old Cliff Hewson's father had kidney disease and he was also diagnosed in 2007.
By 2014 Cliff's kidneys were not functioning, he was able to have a transplant two years late, but it unfortunately failed in December of 2018 resulting in him being back on dialysis.
Prior to having a transplant he was on home dialysis in Wallaroo, as the nearest unit was a 45-minute drive away at Maitland.
"That worked really well and I had good support from the team who would come out from time to time," he says.
He has recently undergone training at the Home Dialysis Training Unit to learn how to use a new machine and ahead of moving to a new home which includes a dedicated space for him to dialyse.
"It allows me to have pretty much a normal lifestyle because I had a machine at home I could dialyse more often so I didn't have to limit fo
od and drink as much," he says.
"Dialysing five times a week at night keeps me really healthy."
Mr Hewson says he has solid support at home from his wife and daughter who help with the machine, and is also thankful for the clinical support.
"I have some much admiration for the people who look after us and it's been the same in every centre. The nursing staff are so caring and in tune with what our needs are."
Cliff is pictured with NUM Michelle Ovenden and nurse Georgie Goranova
Shared care – Terry's story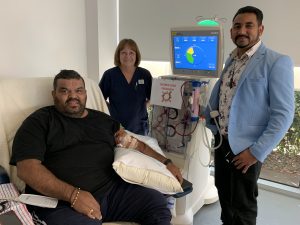 Terry Rankine, a 42-year-old disability care worker, started shared care five years ago.
He comes in early and sets up his machine so he can complete dialysis and get to work.
"I take control of it all myself now. If I have any problems I can call the nurse," he says.
"I didn't think I'd be doing it myself, but now I'm encouraging others.
"As time goes by it gets easier and easier."
He jokes about his newfound nursing skills saying "the only difference between us is that she's Port and I'm Crows," of nurse Judy Johnson.
Terry is pictured with nurse Judy Johnson and clinical program delivery manager Arish Naresh.