In what's hoped to be the first of many, an Organ Smoking Ceremony was held at the Royal Adelaide Hospital this week to pay respects to the donor and family of a recently transplanted patient.
Providing families and patients with the option to have an Organ Smoking Ceremony has evolved following community consultation through the National Indigenous Kidney Transplantation Taskforce (NIKTT) which is a Federal funded program to increase renal transplantation in Aboriginal and Torres Strait Islander people.
The Taskforce is responsible for implementing recommendations from a review into the hurdles, service gaps and practical challenges faced by Aboriginal and Torres Strait Islander patients receiving treatment for kidney disease.
The Smoking Ceremony was held with NIKTT National Coordinator Kelli Owen and her son Kuranye who received a kidney donation over the weekend.
Kelli said it was extra special that he was the first to be able to have the Smoking Ceremony on the site of the hospital as part of his healing.
Kuranye underwent dialysis for just over a year at the RAH and the Women's and Children's Hospital, and when an identical match came up the transplant was organised within a few days.
Holistic view of healing
For Aboriginal and Torres Strait Islander Peoples, having culturally safe care is important for healing, together with modern medicine.
"The Smoking Ceremony is really going to help with his healing," Kelli said. "It's about taking a holistic view and looking at other ways of care, not just with medicine."
Staff from both the RAH and the WCHN attended the ceremony, with Kuranye's older sister Ashum performing the welcome and smoking on Kaurna Yarta.
Family members spoke about the importance of the ceremony in helping to dispel negativity and trauma from the donated organ, to connect the organ through smoke to the present, and to say thank you to the donor and family.
Kelli said the organ cleansing ceremony was a key part of the work of NIKTT in helping to increase renal transplantation by providing a culturally safe renal service and a safe space for families to gather.
It's hoped Organ Smoking Ceremonies will be offered through the work of other NIKTT First Nations reference groups, which have been set up in Perth at Sir Charles Gairdner Hospital, in Brisbane at Princess Alexandra Hospital, and at Westmead Hospital and Royal Prince Alfred Hospital in NSW.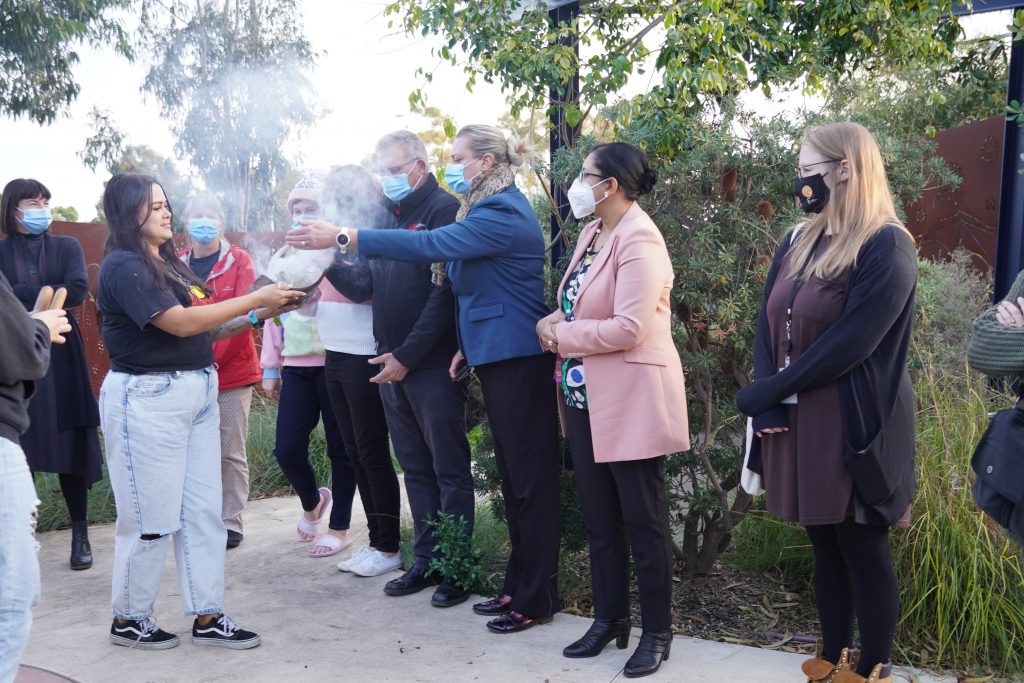 Kidney transplantation at the RAH
The Central and Northern Adelaide Renal and Transplantation Services (CNARTS) is one of Australia's largest dialysis and transplant units.
About 20 Aboriginal and Torres Strait Islander patients receive a transplant at the RAH each year, one of the highest numbers in Australia.
Kidney and Islet Transplantation Director Professor Toby Coates AO said being able to offer families the ability to have a Smoking Ceremony if they wanted was important to ensure they were providing a culturally sensitive service.
"We have been doing a lot of work to ensure our service is culturally sensitive and it's wonderful that our renal team has been the first to be able to facilitate this Smoking Ceremony.

"We hope to be able to make it more accessible and provide the option for families if they would like to do it."

Kidney and Islet Transplantation Director Professor Toby Coates AO with Kelli and Kuranye.