Aboriginal and/or Torres Strait Islander Australians experience significantly higher cancer incidence and mortality compared to non-Aboriginal Australians.
Aboriginal people with cancer come to the Royal Adelaide Hospital or The Queen Elizabeth Hospital from across SA and NT for cancer treatment, with most requiring it for solid tumour types, such as lung, breast, bowel and head and neck.
Cancer Program Nurse Lead Leanne Naaraat says the team are acutely aware of the need Close the Gap and improve health inequities for Aboriginal people with cancer.
"We really saw the opportunity to improve in this area and we have implemented several initiatives to not only improve services but to ensure they are culturally safe.
"One of these initiatives has been to create a Cancer Care Coordinator for Aboriginal Health to better bring together patient-centred care and strategic initiatives to improve health outcomes," Leanne says.
Sam Kourakis recently started in the Cancer Care Coordinator role and is working closely with Aboriginal Health Practitioner, Lynne Thorne to review and implement the national Optimised Care Pathways for Aboriginal people with cancer.
An experienced cancer nurse, Sam says "patient centred care is what I like the most about my work over the last 25 years, and this role brings that together with strategic initiatives that will really make a difference."
The Cancer Program team are working closely with staff in the Aboriginal and Torres Strait Islander Health and Wellbeing Hub to ensure the information and support being offered is culturally appropriate and to improve services from a cultural standpoint.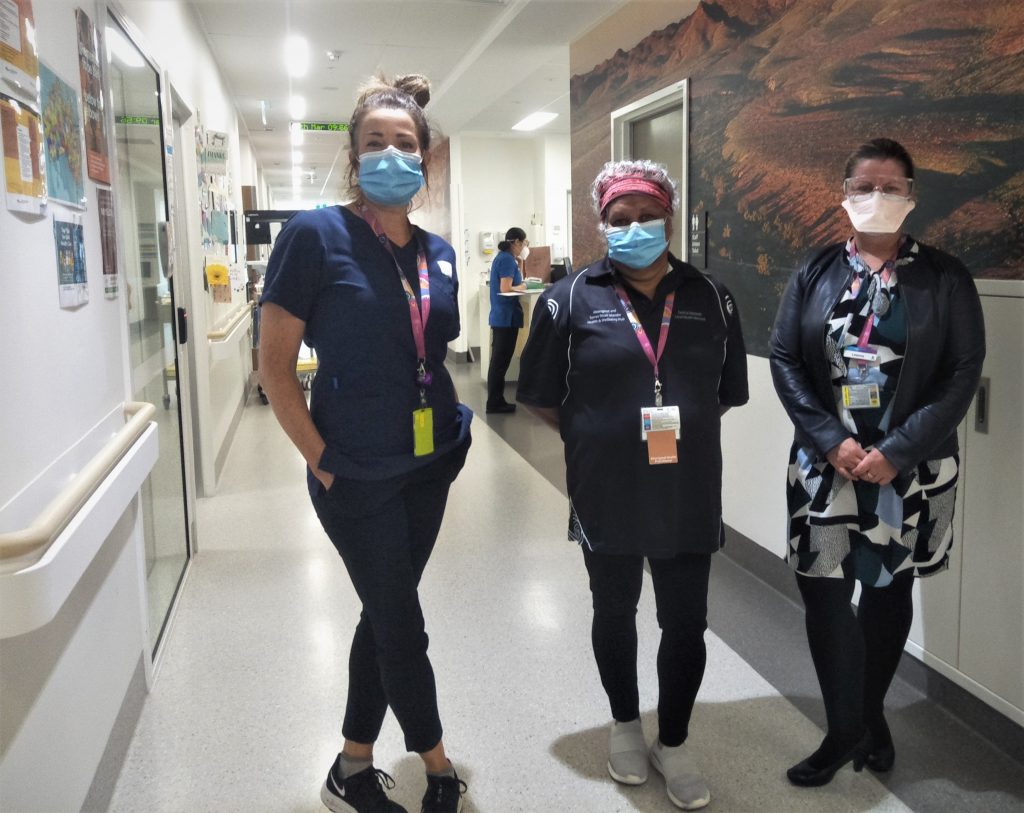 Image: Sam, Lynne and Leanne on the ward.
New approaches to providing culturally safe care
Creating a safe environment and partnering with consumers are part of CALHN's strategic priorities to ensure better access to, and equity of care, and a more culturally appropriate service.
Patients can be at the RAH for a long period of time, so it's important that CALHN staff are working together and listening with the patient and their family to accommodate their needs.
Including families in any decision-making is important for many Aboriginal patients and can help with appropriate communication.
"Sometimes different approaches need to be used so that patients and families have the information and understanding they need about treatment and care and are comfortable with the decisions they make," Sam says.
"With a recent patient we wanted to organise a meeting with their family to help share information, but the family was in the remote NT.
"We worked together with the family to arrange travel to the GP clinic where everyone could gather and be on the call with the surgeons and myself as we explained the treatment to the whole family," Sam said.
Such collaborations with patients and family can help to build a shared understanding and confidence, particularly for consumers who live remotely.
A partnership with Top End Health
Cancer Program Medical Lead Professor Tim Price said many Aboriginal patients from the NT need to come to the RAH for specialist radiation therapy as some treatments are not offered in Darwin.
So to further improve health outcomes and strengthen treatment pathways for patients in the Northern Territory, CALHN Cancer Services has established a partnership with Top End Health Cancer Services in the NT.
The partnerships will help to increase clinical care options, including access to clinical trials.
"We're hoping to tap into the knowledge of Top End Health and that they can also learn from us," he says.
It's hoped this partnership will help with continuous care, to prevent gaps and improve communication.
"CALHN in particular will be able to learn about the cultural impacts of cancer care to improve our models of care here at the RAH for Aboriginal peoples," Prof Price says.
"And we hope that Aboriginal people with cancer will gain from this shared knowledge through improved appropriate care."