An innovative nurse education and support role developed for Central Adelaide's COVID wards is benefitting patients needing additional respiratory assistance and enabling upskilling opportunities for nurses.
International experience during the global pandemic has demonstrated that High Flow Nasal Oxygen (HFNO) therapy, which allows the delivery of a mixture of air and oxygen via the nose at higher flow rates and oxygen concentration than is achievable through traditional nasal cannula, is an important treatment for some COVID-19 patients to prevent their deterioration and the need for intubation.
Prior to the pandemic, HFNO therapy was largely delivered either in ICU or specialised respiratory ward areas, leading to the recognition that expanding Central Adelaide's ability to provide this therapy in other wards was vital to ensure these specialised areas were not over-burdened with COVID-positive patients.
The creation of the new Nasal High Flow (NHF) support nurse role for staff working in the COVID wards at the Royal Adelaide Hospital (RAH) also acknowledged extra assistance would be highly beneficial for clinical staff caring for patients receiving HFNO therapy.
RAH Acute and Urgent Care nurse educator Daniel Sofia, who helped develop and implement the program as well as upskill more than 70 nurses in HFNO, said the role was supporting patients and staff.
"This initiative has been beneficial for many patients by allowing them to be managed within a ward environment as opposed to ICU and has prevented further disease progression," Daniel says.
"Although some patients do take some time to adapt to HFNO therapy, many report that once they adapt to it they feel much more comfortable.
"This is also noticeable as their work of breathing reduces."
The support role is staffed by nurses with extensive knowledge and experience in respiratory, nursing education, ICU, and perioperative areas, he says.
"The support nurse offers a variety of assistance to ward nursing staff including helping the setup and commencement of the new therapy, proactive rounding, liaison with medical teams and ongoing advice," Daniel says.
"The role has a large emphasis on not just going in and "doing" the work, but instead to engaging with the staff and providing education.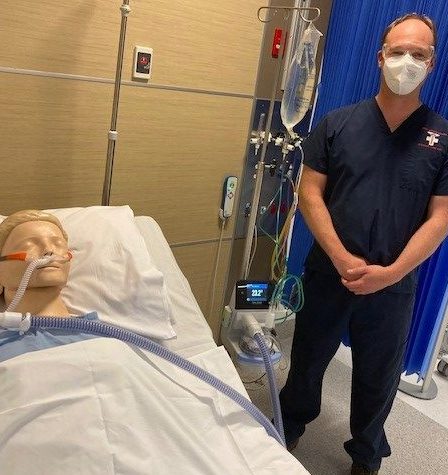 He said feedback from staff on the COVID-19 wards have found the program to be valuable.
"The ward nurses have embraced these newly acquired skills and they must be congratulated for their positive approach, and ongoing dedication to doing the best care for their patients," he says.
"There has also been great support and engagement from the associated Nurse Unit Managers, the MER service at the RAH, and leadership teams.
"I'm very lucky to be able to work with these teams."
Collaboration across several clinical program areas helped pave the way for the initiative to be well-embedded in the ward's workflow.
"Our ability to now provide HFNO in ward areas has occurred through the hard work and negotiations by multidisciplinary representatives from a number of programs including Acute and Urgent Care, Critical Care and Perioperative Services and Heart & Lung," he says.