CALHN Intensive Care Unit (ICU) clinicians are laying the foundation of a revolutionary shift towards efficient, data-led patient care and clinical management.
The ICU Bedboard is a new streamlined visualisation of clinical data stored on the Electronic Medical Record (EMR) that allows clinicians to recognise and find critical information in half the time and will soon allow for comprehensive clinical performance auditing.
A compounding problem
In order to make critical decisions on patient care, ICU clinicians need accurate and reliable data in real-time on the care being provided to a patient, as well as the patient's physiological trajectory.
In South Australia, clinical information is stored on the EMR provided by Sunrise, but the most essential information for clinicians is not displayed in an ergonomic manner, delaying medical decision-making and reducing clinical efficiency.
"If it's taking us twice as long to get the information we need, that adds up to delay care to patients and to delay their return home," said Dr James Malycha, Intensive Care Consultant at the RAH & TQEH.
"These inefficiencies are being compounded across the organisation and are manifesting as things like bed block, delayed discharge and ramping."
A solution built at the coalface
The ICU Bedboard is a solution led by Dr Malycha that provides critical patient information at a glance.
Clinical Data Analyst, Josh Norton, has written the code that extracts from the EMR the most meaningful metrics that aid clinical decision making, and presents it in an ergonomic and efficient interface, accessible from a secure internet browser.
"Our motivation was to build a one-stop-shop to enable clinical staff to get the information they need as ergonomically as possible," said Dr Malycha.
"We wanted them to be able to take one look and get an overarching sense of what's going on with the patient"
The Bedboard provides a streamlined visualisation of vital signs, laboratory results, current interventions and more. This visual display allows clinicians to access what they need faster, and see relationships between variables, rather than in isolation.
For Dr Malycha and Mr Norton, the key strength of the Bedboard is that it has been designed specifically with the end user in mind and can improve clinical efficiency beyond the ICU.
"This is built 100 per cent in the place where the work is being done. It's a clinically-driven innovation," said Dr Malycha.
"It's important to thank Laura Messing from EMR Optimisation, who had the foresight to allow Josh to work on the ward with us. That's when the magic happened."
"It's very transferable from ICU to cardiology, radiology or whoever wants it," added Mr Norton.
In addition to real-time benefits, the Bedboard will also provide clinicians with a portal to be able to access validated retrospective data on what is happening in the unit.
"It allows for real-time error detection and quality control. This has immediate benefits for clinicians and knock-on benefits for retrospective analysis and research," explained Dr Malycha.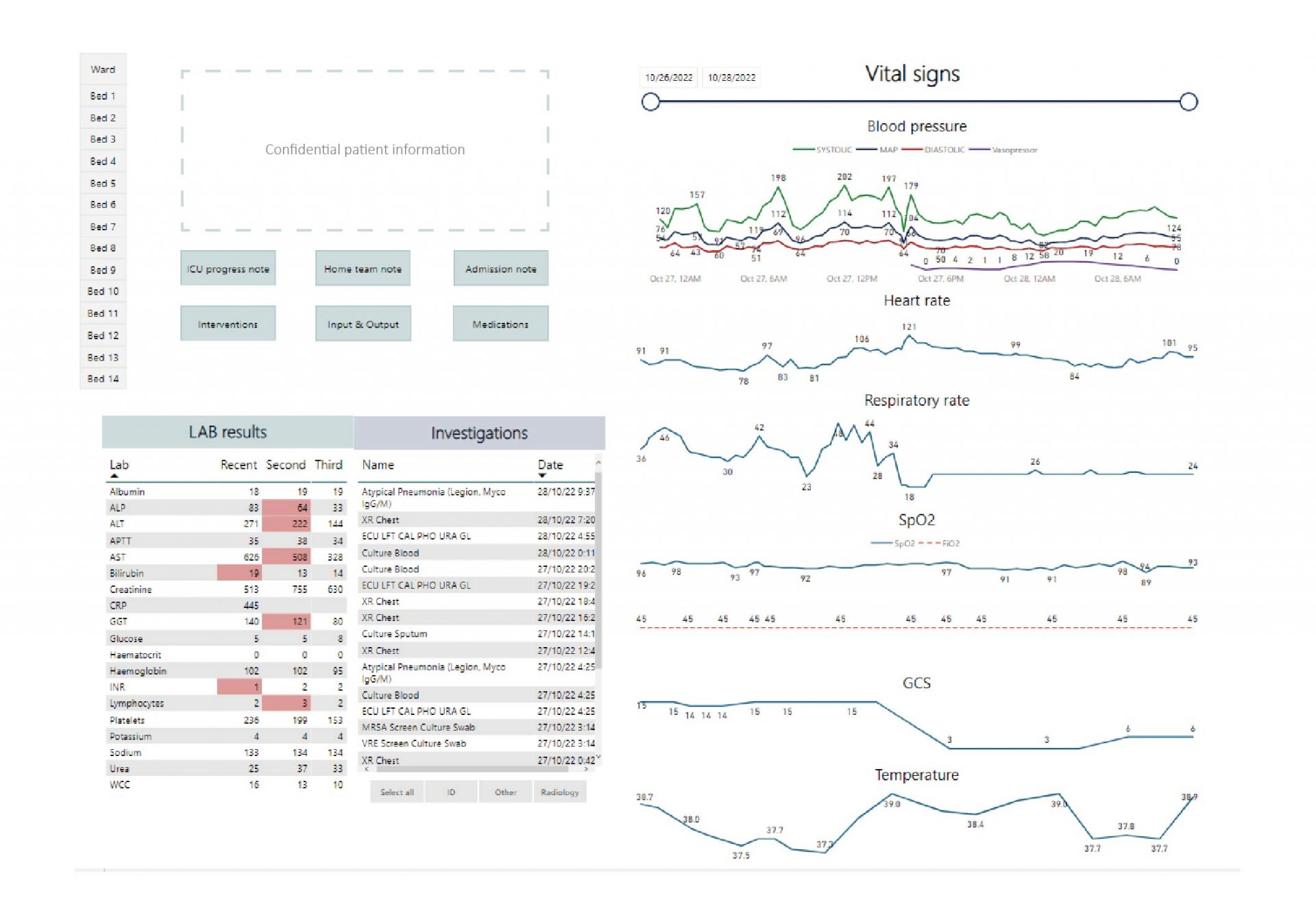 Caption:  Bedboard 'Patient Homepage' with key variables displayed to give an overview of patient vitals over 72 hours and all investigations during their stay
Early success
The development team are soon to trial a third iteration of the ICU Bedboard following successful testing of version two in the ICU of The Queen Elizabeth Hospital, and have received unanimous support from clinical staff.
Critically, the testing data show that clinicians could access important patient data in half the time it takes to find it in the Sunrise EMR.
"Overcoming inefficiencies in the system frees up more time for patient care and enables better decisions to optimise that care," said Dr Malycha.
100 per cent of clinical staff who tested the Bedboard reported that they found it easy to use and would use it frequently, if available.
"There is an incredible appetite for this to be put in place straight away. Everybody in my unit wants it. But we're making sure we get it right before we implement it."
How the ICU Bedboard works
The backbone of data selected for display is based on The Australian and New Zealand Intensive Care Society (ANZICS) Core database. This is a list of 110 variables which are used to benchmark the performance of ICUs throughout Australia.
The visual presentation of the data allows clinicians to spot erroneous values during use, and the validity of the data is also systematically checked by Data Analysis Nurse, Danilla Begiolli.
"We have this cycle of coding, data extraction, and data validation. This is what no one has done before," said Dr Malycha.
"It's boring, time-consuming and physically laborious, but it's the key to this whole project, and it's replicable and scalable in different units across CALHN."
"It's important to recognise the enormous contribution of Josh and Danila in the process. We are like a tripod of clinical/technical/analytical expertise – each leg is as important as the next. Without their knowledge, innovative thinking, and appetite to get on and solve problems, this project would not have succeeded to this point. In short, they are both absolutely vital."
The team are currently working on a real-time validation feature that that will automatically flag errors in the data, further ensuring data quality, which will pay dividends for clinical performance auditing and research.
World-class potential
The early iterations of the Bedboard have proved immediately useful, but there is massive potential for further improvement.
The platform could be reintegrated within EMR, and cloud-based technology would drastically improve the speed and efficiency of the interface.
"If we can move ourselves into the cloud, we'll have limitless processing power, which means we'll have limitless abilities to run meaningful analyses on our own data," said Dr Malycha.
With a solid foundation of meaningful and validated data, cloud-based resources could enable a tool that would provide clinicians with the ability to self-manage equipment and staffing resources within and between units to manage risk in real-time. For example, to identify elevated risk and allocate nurses from low pressure units to high-pressure units.
"This would turn our organisation into a series of self-regulating modules, that can interface with each other and solve their own problems. That would mean delivering better care at a significantly lower cost," said Dr Malycha.
"Once you get to the point where you have real data flow, you can overlay algorithmic processes where the hospital itself can start to match its supply to its actual demand."
"That's a fair way away, but we can get there by taking these fundamental steps first."
"If we can go there, we'll be the leading hospital in the world on that front."