Rehabilitation that helps to reintegrate back into the community
In 2015 a diving accident left Ryan Mann dependent on a wheelchair to get around.
As an otherwise healthy man in his 30s with a family and in paid employment, Ryan has for the past few years also contributed as a consumer representative for the relocation of CALHN spinal cord injury and brain injury rehabilitation services to The Repat Health Precinct.
Ryan had his accident on a day off when he was working for a mine in Western Australia so he began his rehabilitation at the state's largest hospital, Fiona Stanley, which was built in 2013. He returned home to South Australia to complete his rehabilitation at Hampstead Rehabilitation Centre, built decades ago, and he felt the difference.
"My rehab was done in halves," says Ryan, "half at Fiona Stanley and half at Hampstead."
"It was good as a consumer representative to give my perspective because I went through Fiona Stanley in Perth when that was brand new, but I came home to complete my rehab."
He commends the staff at Hampstead but believes once The Repat is complete it will be on par with Fiona Stanley.
"With the new building and all the new spaces, the new technology, they're going to be able to improve the services."
As a consumer representative, Ryan has been involved in workshops with staff, architects and the project team to design the new rehabilitation facilities. The aim of these workshops is to collaboratively design each room with participants who work in the current facility, or in Ryan's case have been a patient with the service. The result is a patient-centred design that optimises their wellbeing and recovery.
In addition to consumer representatives, the design of the rehabilitation facilities has been guided by recommendations from 31 people with lived experience as a spinal cord injury or brain injury patient or carer. They were interviewed for their feedback and suggestions, most of which were practical ideas to improve patient experience – such as a play space for children, a variety of areas to socialise or have privacy with loved ones and the ability to personalise rooms, which will all be incorporated into the new facility.
Ryan is particularly excited about the basketball courts, gymnasium and the many common areas the new site will have.
"I believe that rehabilitation needs to help someone reintegrate back into the community… I'm hoping that this new design, the community area, will help with that."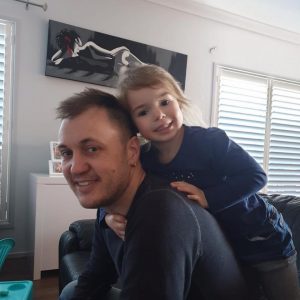 Consumer representative Ryan Mann with his daughter
I wanted to give back to a service that saved my wife's life
Dean Fyfe is a carer representative who has been involved with the design of the rehabilitation services at The Repat.
"Back in 2006 my wife had a car accident and she has disabilities from that," says Dean.
"I wanted to give back to a service that saved her life. I thought being involved as a consumer adviser was a way I could give back to other people."
Dean has been actively involved in health planning as a consumer representative on a number of committees.
"All the time I've been involved in these projects, we've always been listened to (the consumers), we've always been valued."
Dean's wife spent two years at Hampstead with their family celebrating 10 birthdays there and their son studied for year twelve in her bedroom by her side.
"The family and community areas and BBQs at The Repat are so important…It's going to give it a real community feel – and it's going to be a more homely feel than a hospital."
He is really pleased with the way the plans have come along, and appreciates being able to give his voice to the project.
"Once it's built its going to be modern, beautiful and have some great family features. It's going to be great."
Dean is hopeful that South Australia's brain injury rehabilitation facilities will be the envy of the country.
"We've got the people, we've got the knowledge, now we just need the facilities to make it happen."
Construction for the new rehabilitation facilities at The Repat is underway and due to be complete late 2021. Features include:
24 bed Brain Injury Rehabilitation unit
24 bed Spinal Cord Injury Rehabilitation unit
All single bedrooms with integrated lifting equipment and ensuites
Unit for patients and families to stay overnight, preparing for their transition home
Town square – an open, outdoor community hub in the heart of the precinct that allows for therapeutic space, community activities and events
Large hydrotherapy pool
Sports gymnasium featuring a large court to support therapy, wheelchair sports and recreation
Exercise physiology gymnasium adjoining the sports stadium
A variety of outdoor therapy and recreation areas
Therapy facilities to support each inpatient unit, including a seating service
Outpatient facilities to support ambulatory rehabilitation services
Research spaces

Carer representative Dean Fyfe