A trio of Central Adelaide Local Health Network clinicians have recently returned from a humanitarian aid trip to Dili in Timor Leste (East Timor) providing life-changing surgical services for patients with limited access to health care.
RAH surgeon and head of Cleft and Craniofacial SA, Dr Mark Moore, and RAH Technical Suite Perioperative Nurse Educators, Joy Booth and Mary Martinaitis, were among an Overseas Specialist Surgical Association of Australia (OSSAA) mission providing plastics and reconstructive surgery and educating and upskilling local health workers.
During their trip the OSSAA team saw 135 patients and undertook 49 procedures, along with developing local capacity of the nursing and medical workforce by supporting clinical and surgical training through mentorship and education.
Making an impact
The team also focused on training their local counterparts to improve surgical outcomes, as they face multiple challenges working in a developing country, including equipment and power failures, and working in the dark (and heat).
Caption: Dr Mark Moore teaching local doctors
Mark and Joy both have long-standing mentor relationships with their local counterparts, with Mark undertaking volunteer cleft / craniofacial, reconstructive surgical teaching and clinical missions to Timor for over 20 years.
Joy has been travelling to Timor since 2012, while it was the first trip for Mary.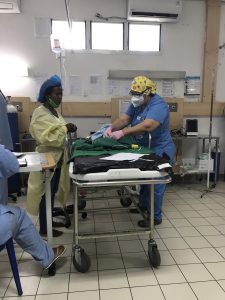 Caption: Mary teaching in recovery
Joy says of her experience:
 "It is a rewarding privilege to be able to share knowledge and skills supporting our closest overseas neighbour.
"I believe that it is essential to give the nurses in developing countries the encouragement they deserve. They often receive limited training and education, yet they still manage to get their patients safely back to the wards following surgery.
"One of the most important considerations is working alongside the local staff and supporting them in a manner that won't offend or embarrass them.
"Establishing relationships with the local nursing staff is one of the first steps to provide the foundation upon which teaching and learning experiences develop.
Leaving a legacy
"Through clinical support and role modelling I try to equip nurses with the skills to educate their own junior staff.
"As the junior nurses grow to be more experienced, they themselves will be equipped to teach their juniors, thus creating a self-sustaining education system.
"During COVID-19, relationships were maintained with regular Zoom and Skype calls so that valuable information could be shared regarding COVID-19 protocols for operating theatres and ongoing teaching could be maintained.
Since OSSAA's establishment in March 2002 there have been 112 trips, 12,032 consultations and 5,379 surgical procedures carried out by volunteer teams.
Main image caption: Joy with preoperative patient