Central Adelaide Local Health Network's commitment to excellence and its dedication to the delivery of high-quality patient services has been recognised in the 2022 SA Health Awards, with nine finalists named across a range of categories. 
The awards showcase excellence in the public health sector and recognise and reward individuals, teams, programs or projects that have significantly improved the delivery of health services to the South Australian community. 
Our CALHN finalists are: 
Associate Professor Tarik Sammour – Quaternary Pelvic Exenteration Service Colorectal Unit, Royal Adelaide Hospital: Premier's Award for Excellence in Health 
A/Prof Tarik Sammour was recruited by the RAH Colorectal Unit in 2017 to establish a quaternary pelvic exenteration service based on his international fellowship experience in this field.  
The successful implementation of the service has led to better access and outcomes for patients and considerable saving to the health system.   
The service has recently expanded to include vessel reconstruction and sacrectomy, a state-first, further reducing unnecessary and costly inter-state referrals. 
Lung Transplant Team Lung Transplant Unit, Royal Adelaide Hospital: Premier's Award for Excellence in Health 
Alarmed by a reported 45 per cent COVID-19 fatality rate for lung transplant recipients internationally, SA's Lung Transplant Team's response during the pandemic kept vulnerable, immunosuppressed patients safe.  
As the pandemic began, the team carefully instructed our transplant community on what to do and implemented an evidence-based streamlined protocol, enabling patients a single point of contact, rapid treatment and continuous input from the lung transplant team.  
The team reported a 100 seven-month survival and 0 ICU days among this vulnerable population.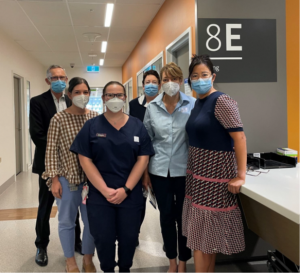 Centre for Clinical and Experimental Transplantation Kidney and Islet Transplantation: Minister's Research and Innovation Award 
Since 2006, the Centre for Clinical and Experimental Transplantation (CCET) at the Royal Adelaide Hospital, led by Professor Toby Coates, has sought to develop and translate new transplantation procedures for the treatment and prevention of complications of diabetes.  
As Australian leaders of remote site islet cell transplantation for type-1 diabetes and auto-islet transplantation for hereditary pancreatitis, CCET has partnered with world experts to deliver next-generation cell therapies to benefit the community.  
Functional Coronary Angiography Cardiology: Minister's Research and Innovation Award 
Heart-related chest pain is commonly investigated with invasive coronary angiography which involves injecting dye into the bloodstream and observing blockages of blood flow around the heart with x-ray. However, true causes of cardiac pain are undetectable in 10-50 per cent of cases.  
This team is pioneering innovative "functional" angiography and can detect definite cardiac causes of chest pain in 80 per cent of these patients, enabling correct medication and management and better patient outcomes.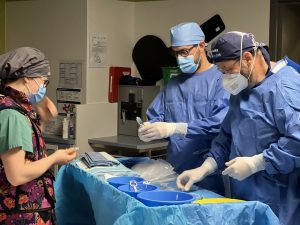 The INJECT Program – Managing Needle Fear in Haemodialysis Patients Central Northern Adelaide Renal and Transplantation Service (CNARTS): Minister's Research and Innovation Award 
The INJECT Research Program supports patients with kidney failure on life-saving haemodialysis who face enormous challenges due to pain, trauma and fear related to dialysis needles.  
These patients need more than 312 large-bore needles each year to stay alive, yet there were no evidence-based strategies for helping them.  
To help improve patient care, our multifaceted, multidisciplinary research program has developed: 
Evidence about needle-fear and trauma

New tools to identify needle fear

Self-management tools for patients

Training for Dialysis nurses
RAH ICU Extracorporeal Membrane Oxygenation (ECMO) Team Intensive Care Unit, Royal Adelaide Hospital: Enhancing Hospital Care Award 
Extracorporeal membrane oxygenation (ECMO) is a high-risk therapy which was widely used internationally during the first wave of COVID-19.  
Early in the pandemic RAH clinicians identified it would be an essential skill to help manage SA patients, however local border closures meant that the normal process of sending clinicians to Melbourne for training was not a possibility. The development and implementation of the RAH ECMO course enabled a safe delivery of a sustainable high risk treatment modality to South Australians requiring lifesaving care. 
The Faculty of Medical and Nursing worked tirelessly in their own time to create an ECMO course. They have run four courses since establishing the training and with an increase in patients receiving ECMO, they have successfully upskilled the workforce by 65 clinicians in the past two years.  
Multi Agency Discharge Event (MADE): Excellence in Strengthening Partnerships Award 
CALHN has partnered with government agencies and non-government organisations in the Multi Agency Discharge Event (MADE) program to improve care and timely discharge of Long Length of Stay (LLOS) patients with complex needs. 
The program brings together a multi-disciplinary team to support patient flow across sites and services, with 63 per cent of the LLOS patients under review discharged within two weeks of each MADE.  
It has also helped to strengthen partnerships and facilitated collaboration between different groups, with patient care at the centre. 
Wayville COVID-19 Mass Vaccination Clinic COVID-19 Vaccination Program – CALHN, DHW, SAAS and WCHN: Making a Difference Award 
The Wayville Mass Vaccination Clinic played a critical role in SA's COVID-19 response, delivering over 590,000 vaccinations in 13 months and changing the course of the pandemic in SA. The clinic was highly regarded by the public for its commitment to providing responsive, innovative, efficient and client-focused vaccination services. 
The team had to be adaptable to meet the changing nature of the vaccination program. As it was winding down, the booster campaign and expanded eligibility (5-11-year cohort) saw it scale up, experiencing its highest demand and delivering over 3900 vaccinations in a day. 
Nicole Loft, Cancer Program: Young Professional of the Year 
Nicole is the only haematology nurse practitioner working within CALHN and has extensive experience and passion. She is a tireless advocate for her patients, providing expert knowledge and outstanding specialist care to those post-stem cell transplant.  
Unrelenting in her pursuit of improving care pathways and enhanced service delivery, Nicole has been the driver behind several initiatives. Her innovative research has been awarded a Commission on Excellence and Innovation in Health (CEIH) research grant.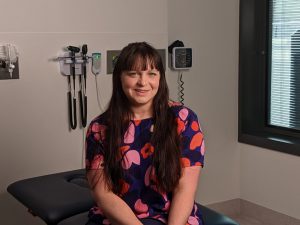 The awards are open to all SA Health employees, with award winners announced on Friday, November 18.